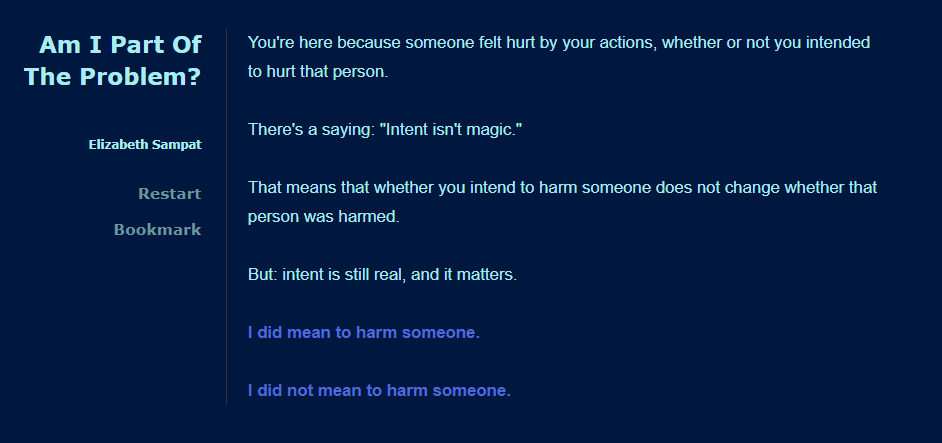 No matter how well-intentioned you are, you're probably going to need to apologize to someone eventually. Nobody's perfect. But while it's easy enough to say that you're sorry, offering a meaningful apology is more complicated. Given how many genuinely awful non-apologies we see in the media every day, it's a skill we could all afford to practice.
Maybe there's someone out there you owe an apology already. It happens.
Either way, game designer Elizabeth Sampat is here to help. Sampat has created Am I Part of the Problem?, a Twine-based interactive tool that walks users through the process of crafting a useful, effective apology. And one of the first steps is to understand what an apology is meant to affect. It's not about forgiveness, it's to acknowledge the harm we've done.
Am I Part of the Problem? begins with the problem: you hurt someone. You can establish why it happened — whether you did it on purpose or not, and what motivated you. You can explore your reasons for apologizing or not apologizing. Where an apology could still be helpful to the person you harmed, the tool will help you craft one. Where it isn't, the tool will help you make amends in other ways.
Talking to The Verge, Sampat explained why she feels a tool like this is necessary.
Sampat points to a general misunderstanding about why apologies are necessary in the first place. "We spend a lot of time thinking about ourselves and our own image," she says. An apology can seem like an admission of guilt. Sometimes people feel obligated to apologize in order to return things to normal, or they expect their apology to be rewarded with forgiveness.

For Sampat, the most valuable lessons in apologizing have come as a result of learning about social justice, listening to marginalized people, and having kids. "I know I'm incredibly out of my depth. I'm going to mess up, and apologizing and making amends is the only way through," she says of making mistakes.

We all make mistakes. Apologizing can be hard, and it can bring up a lot of shame. That's something a therapist can help with. Am I Part of the Problem? teaches us about helping the other person, not ourselves — even if that means an apology isn't the right answer.