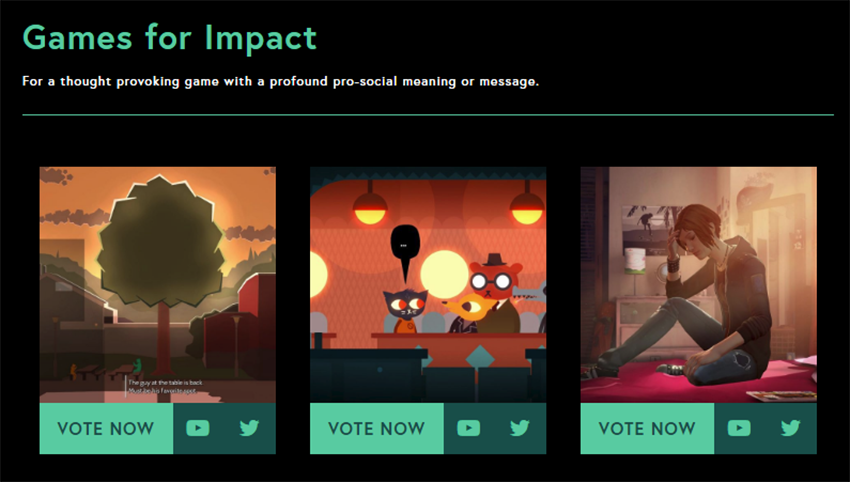 Yesterday, The Game Awards announced its list of nominees for its 2017 awards ceremony. The awards seek to "recognize and uphold creative and technical excellence in the global video game industry" and "bring together a diverse group of game players, game developers, and notable names from popular culture to celebrate and advance gaming's position as the most immersive, challenging and inspiring form of entertainment."
Part of that effort toward diversity each year is the Games For Impact category, which honors thought-provoking games with profound pro-social meanings or messages. This year's nominees have a particular focus on mental health.
This year's nominees include the following games:
Please Knock on My Door by Levall Games
Night in the Woods by Infinite Fall
Life is Strange: Before the Storm by Deck Nine, Square Enix
Bury Me, My Love by The Pixel Hunt, Figs, ARTE
What Remains of Edith Finch by Giant Sparrow, Annapurna Interactive
Hellblade: Senua's Sacrifice by Ninja Theory
Please Knock on My Door is an intimate, personal look at the experience and isolation of depression. Night in the Woods' characters experience depression, bipolar disorder and other mental health issues. Hellblade: Senua's Sacrifice explores psychosis and voice hearing with consultation from psychologists and people with lived experiences.
While the others don't deal with mental health directly, they touch on related subjects. Life is Strange and What Remains of Edith Finch deal with grief and loss. Bury Me, My Love explores the tension and anxiety of being apart from a loved one who is in a dangerous situation — specifically, fleeing Syria to find a better life in Europe.
You can find the full list of nominees at The Game Awards website, where you can also vote for your picks in this and many other categories. The winners will be announced during the ceremony on December 7th, where it will be streamed on Twitch, YouTube, and many other platforms.