Even as Team Take This gets set up for our first show of the year, our second is creeping up quickly: we'll be at PAX South 2018 January 12 – 14, and we're looking forward to seeing you there. Below, we have all the info you need to find the AFK Room, Booth of Hope, and both our panels at the show.
AFK Room:
Need your bastion of calm at the busy show? You'll find the AFK Room on Level 2 of the convention center. It's hanging out near stairway B, along with the coach check, all-gender restrooms and Oculus Rift zone. If you're having trouble finding it, you can also ask an Enforcer for directions.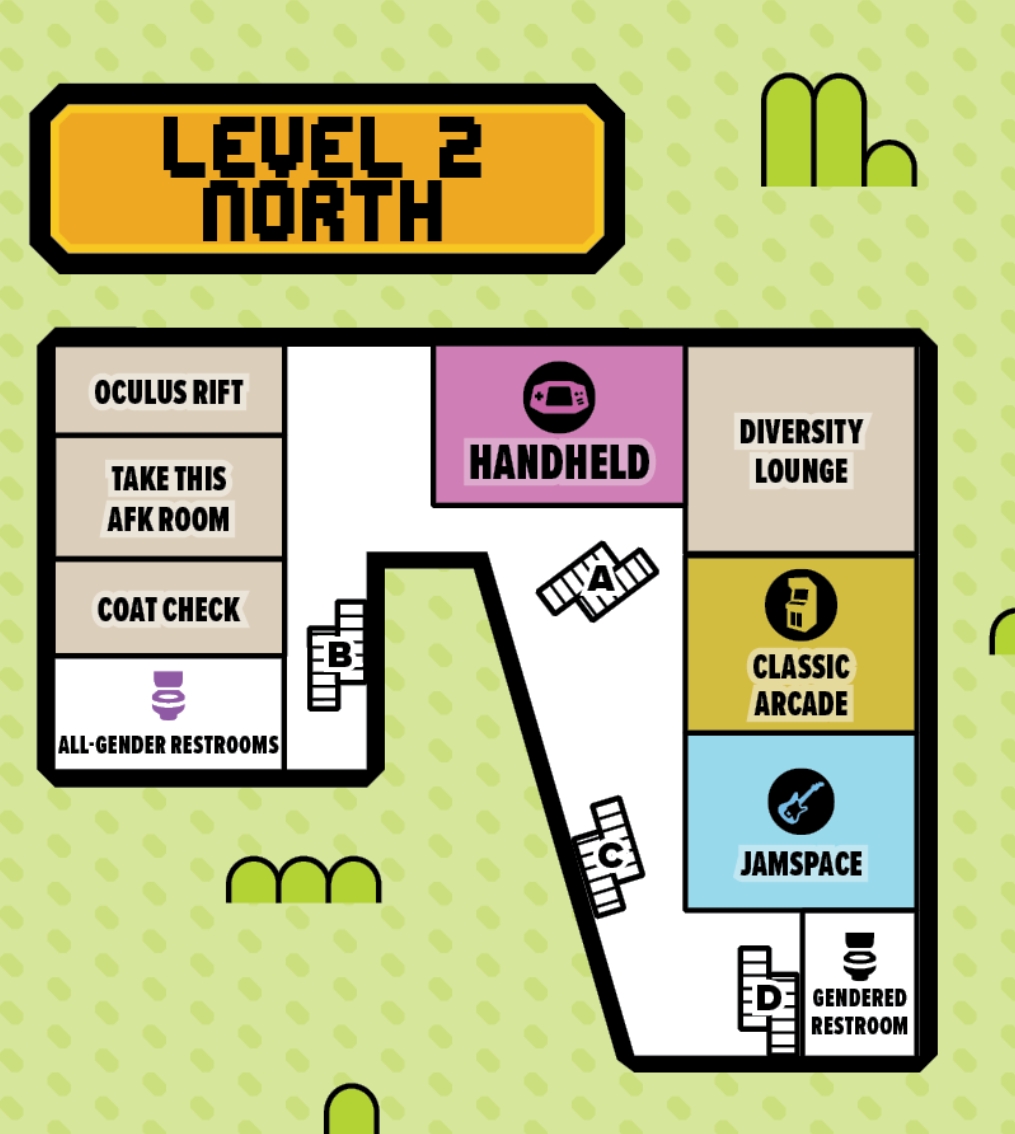 The AFK Room is a quiet space staffed with licensed mental health clinicians. It's a great place to go if you're feeling overwhelmed by the show, if you're anxious or overstimulated and need to get off the floor for a while, or if you or a friend needs support. You can sit, color (it's a wonderful distraction if you need one) and cool down in a low-noise, no interruption environment until you're ready to head out and enjoy the show again. Our clinicians and volunteers can help out if you need more support, and they're great in a crisis.
Hours:
Friday, January 12: 11 a.m. to 7 p.m.
Saturday, January 13: 11 a.m. to 7 p.m.
Sunday January 14: 11 a.m. to 5 p.m.
Booth of Hope:
As always, you can find our wonderful team members and volunteers in the Diversity Hub and Lounge on Level 2, just across from the AFK Room.
If you love Take This and you want to say hi, you should definitely stop by and say hello. We'll have information about Take This and some mental health resources there. We'll also have lots of great donation loot, like pins, including our newest Pinny Arcade pin designed by Penny Arcade's Mike Krahulik, tote bags, the Box of Hope from our friends at Wyrmwood, and, of course, our plushies. If you want to help the cause of mental health awareness and support in the gaming industry, stop by the booth, donate, and get some great loot to take home.
Hours:
Friday, January 12: 10 a.m. to 6 p.m.
Saturday, January 13: 10 a.m. to 6 p.m.
Sunday January 14: 10 a.m. to 6 p.m.
Panels:
Saturday, January 13th | 2:30 p.m. | Cactus Theatre
Streaming is fun, and it's a fast-growing broadcast medium, but what does it actually take to make it a career? More importantly, how do you take care of your own mental health while working hard to launch your particular brand? Join the Take This Project and a panel of successful streamers as they talk about how to find the balance between success and self-care and how they support a healthy and welcoming community.
Take This clinical director Raffael "Dr. B" Boccamazzo will join some of our favorite streamers, including Kate Stark, MissKyliee, Synnpai and Chris Slight for this great panel.
---
Sunday, January 14th | 1:00 p.m. | Cactus Theatre
Mental illness affects more than 1 in 4 people in the U.S. Most people suffer in silence, unwilling or unable to talk about what they're dealing with. And yet the number one way to help most mental health issues is by talking.
Take This and friends share their personal stories of dealing with mental health issues and how they've found hope together.
Hope is the kindest gift you have to give. Listen. Care. Let people know they are not alone and that there's help for what they're dealing with.
Don't miss this open, honest panel with Dr. B, Richard James Cook [Game Developer and Filmmaker, Independent], Kate Stark [Twitch Partner & Broadcaster, twitch.tv/kate], Lorena Olvera [Artist / Founder, Tasukigirl Cosplay], Gabriel Lopez [Twitch Affiliate, twitch.tv/sadsauce].
---
Thanks to all our supporters and Patrons for helping us make it to shows like PAX South. It's dangerous to go alone, so it's wonderful to have you with us.