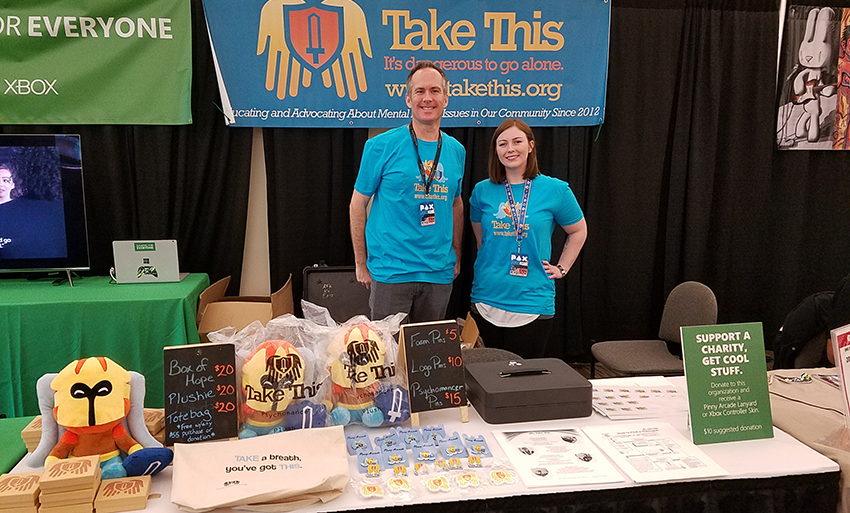 Where will you be on April 5 – 8? If the answer is Boston and the reason is PAX East, then Take This is looking forward to seeing you there.
This year, we're bringing the AFK Room, the Booth of Hope and several panels with some amazing panelists.
The AFK Room is a quiet space staffed with licensed mental health clinicians. It's a great place to go if you're feeling overwhelmed by the show, if you're anxious or overstimulated and need to get off the floor for a while, or if you or a friend needs support. You can sit, color (it's a wonderful distraction if you need one) and cool down in a low-noise, no interruption environment until you're ready to head out and enjoy the show again. Our clinicians and volunteers can help out if you need more support, and they're great in a crisis.
The Booth of Hope is where you can find more of our wonderful volunteers, as well as information about Take This, resources for people interested in mental health and therapy, and great loot for people who donate to the cause. We'll have Boxes of Hope (beautifully crafted by our friends at Wyrmwood), Psychomancer plushies, Pinny Arcade pins, and more.
We'll have more news about panels closer to the show, so keep an eye on our website or on Twitter.
Volunteer Opportunities at PAX East 2018
Believe in supporting mental health awareness and helping other people in our community? We're looking for more wonderful volunteers for the Booth of Hope and the AFK Room. Booth volunteers spread word of the Take This mission, share information about mental health awareness in gaming communities, and make sure our donation loot finds good homes. AFK Room volunteers help attendees and exhibitors on a more personal basis, so we're looking for mental health clinicians and students who are — or want to be — involved with the gaming community.
If you're interested in volunteering for the AFK Room, please tell us a bit about yourself. The volunteer form includes questions about licensure, but you don't need to be a licensed mental health professional or student to volunteer with us — we're always thrilled to have help.
If you aren't attending the show but you want to support our efforts there, you can help us meet the needs of attendees by buying something off our Amazon Wish List (you can select Take This as your Amazon Smile charity of choice to support us with the purchase, too). And if you want to see the AFK Room come to other events, donations and Patreon support make a huge difference in our ability to bring them to more conventions.