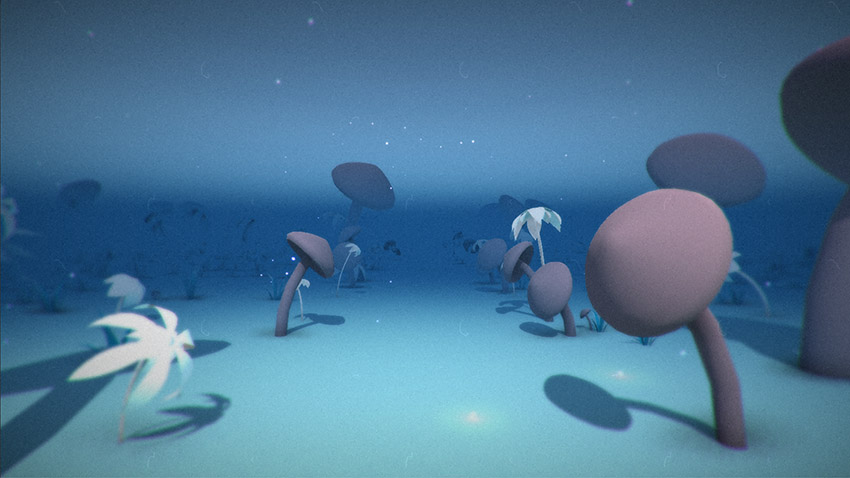 When we talk about games like Journey or Abzû, the word "meditative" often crops up. Travelling through the desert and mountains or swimming beneath the waves can be calming, certainly, and can help us feel more in touch with ourselves.
There's growing list of games that take the idea of meditative interactivity further, though — games that offer guided meditations, or meditations that include interactive elements. Guided Meditation VR is one such experience, offering a series of guided meditations in calm, natural virtual spaces. It's a great example of how virtual reality can be used to improve our wellbeing in daily life, outside any clinical context.
Soften, Soothe and Allow is another. It's a small, independent interactive that contains a single, twelve-minute long guided meditation. As you move through a gently colored environment, narrator Jessica Westfold talks you through a meditation that uses elements of Self-Compassion and Acceptance and Commitment Therapy to help you cope with difficult emotions. It's minimally interactive, instructing users to hold the spacebar while breathing in and release it while breathing out. If you do, the world on-screen brightens with each breath.
Writing for Videodame, Jay Castello shares a few thoughts on the value of interactive meditations like Soften, Soothe and Allow.
"It might seem counterintuitive, but adding a form of interactivity and feedback to these meditations actually prevents me from being distracted. I can clearly see that I'm following along with what's supposed to be happening, so I don't get caught in worries that I'm totally off-track. It might just be holding and releasing a spacebar and watching the light change, but it really helps.

Moreover, having something to hold in soft focus is one of the reasons that many games not designed to be meditative can be used that way regardless. Focusing on one's breathing is easier said than done; focusing on slowly and aimlessly walking a character through a space is much better."
Castello also highlights interactives like Staircase, which asks players to type the answers to its questions, and Sacramento, a game of quiet, thoughtful exploration.
Like Castello, I find most guided meditations challenging — paying attention to my breath tends to increase my anxiety, not ease it. Interactives like these give me something else to focus on. Mixing them in with body scan meditations and other guided experiences that don't focus too closely on breathing has done wonders for my ability to meditate.
Do you include games or interactive experiences in your self-care routine? Let us know on Twitter.
Soften, Soothe, Allow can be downloaded for free on itch.io.