It's almost time for E3 and we're looking forward to another great show! We'll be bringing the AFK Room, our trained team of Psychomancers, and the Hope Booth. Stop by and say hi!
For more details about the AFK Room and Hope Booth during E3, keep an eye on our Twitter!
AFK Room
Our AFK Room will be in the Los Angeles Convention Center (LACC) in meeting room #407. If you're feeling overwhelmed or just need a break, feel free to stop by and regain your calm.
Hours:
Tuesday – Wednesday 6/12-13   12PM to 6PM
Thursday 6/14   12 PM to 5PM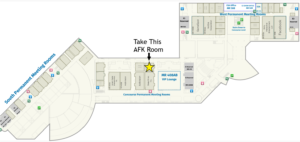 Hope Booth
Our Hope Booth will be just across the street from the LACC at the Good Shepherd Entertainment Space in the Don Chente DTLA Rooftop Lounge. You will need an E3 badge to visit our Booth.
Hours:
Tuesday – Wednesday 6/12-13   12PM to 6PM
Thursday 6/14   12 PM to 5PM