BURNOUT FACTORS: RISK AND PREVENTION
Burnout occurs when there's mismatch between a person and their work environment. The first step in preventing burnout is identifying the factors that have a big impact on whether the work conflicts with the person.
Authors: Kelli N. Dunlap, PsyD & Raffael Boccamazzo, PsyD
BURNOUT FACTORS
Burnout occurs when there's mismatch between a person and their work environment. The first step in preventing burnout is identifying the factors that have a big impact on whether the work conflicts with the person. While there are countless ways conflict between a person and their work can show up, burnout research has generally found six major contributing factors: workload, reward, control, community, fairness, and values.
Workload is the most obvious burnout factor. You're either feeling overworked or you're not.
Part of the reason content creators get overloaded is the destructive myth that you have to constantly be creating 24/7 to be successful. While it's true that you need to be putting out regular content, consistency is usually more important than volume — especially if you already have other work to manage, like being a student or having a job (or both!). Plus, you also do a lot more than what people see on camera.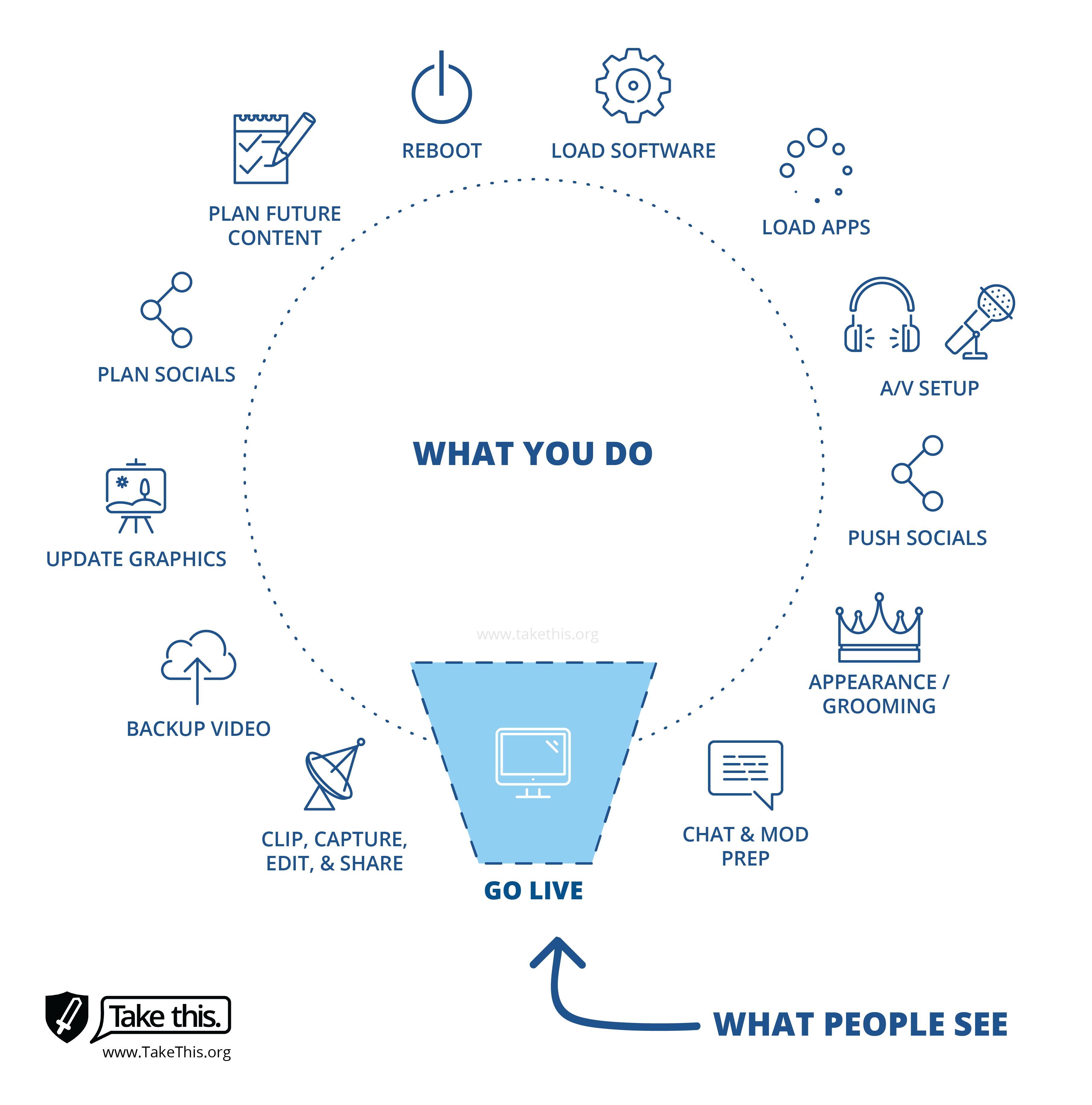 So with workload, favor consistency over constancy and be honest with yourself about how much work you're actually putting in. Also – because it needs to be said – take regular time off. Your brain needs to rest, and you can't be effective creatively if both your brain and body are struggling.
Time… Off?
We all know time off is important, but it can be tricky – or almost impossible – to take time off as a content creator. Below are a few of the most common obstacles to time off and some tips from researchers and from content creators on how to tackle them.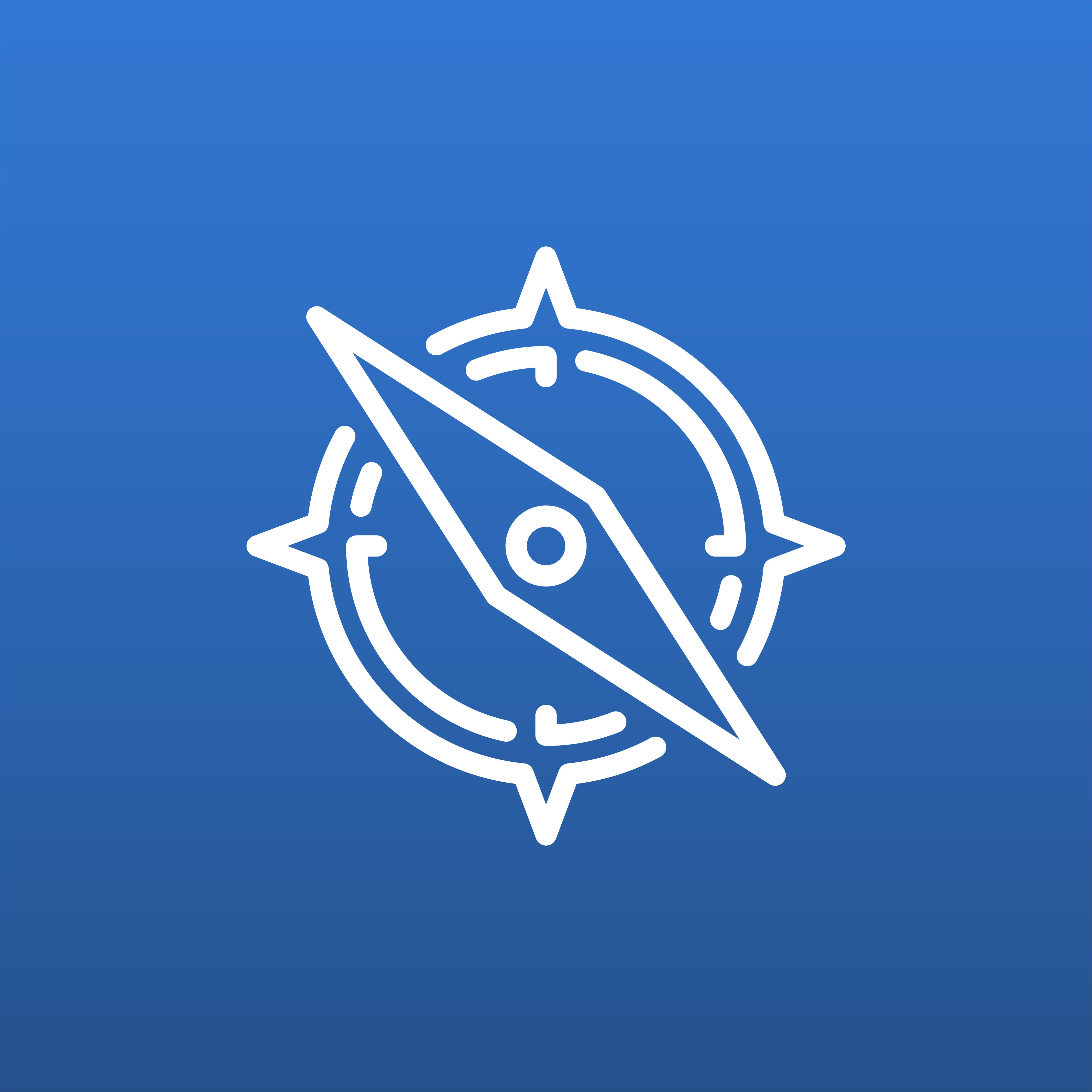 Financial Workload
For creators who earn their livelihood — either in part or totally — from the content they produce, taking a break means losing money. Missing a day on stream or a week with no new video upload can mean loss of subs, followers, and views and consequently income from ads, sponsors, and donations. Even if you can take a week off, that doesn't mean you can afford a vacation to Maui or Tahoe or whatever destination would offer you peace.
Tips for Managing Financial Workload
Managing Financial Workload
Advice we've heard over and over again from content creators is that relying on content creation as your primary or sole source of income is a bad idea. It's not that you can't make money or that you shouldn't dream big, but rather that getting paid a living wage in this space is nearly impossible. Only 3.5% of YouTubers and about 0.01% of Twitch streamers make minimum wage or better from their work.
So what can you do? According to successful streamers, the answer is DIVERSIFY. This means your channel is just one piece of the financial pie, but it's a critical piece. Use your channel, your brand, your content as a launching point for other opportunities.
Far less exciting yet still incredibly important is having a working understanding of your own finances. Most people graduating high school learn about the Pythagorean Theory but have no idea how to balance a checking account, do their taxes, obtain health insurance on the exchange, or any of the other important things freelance content creators need in order to exist. While it's good adulting practice in general, understanding your sources of income and comparing them against your costs is critical to making decisions around whether content creation is a viable financial option.
More budgeting resources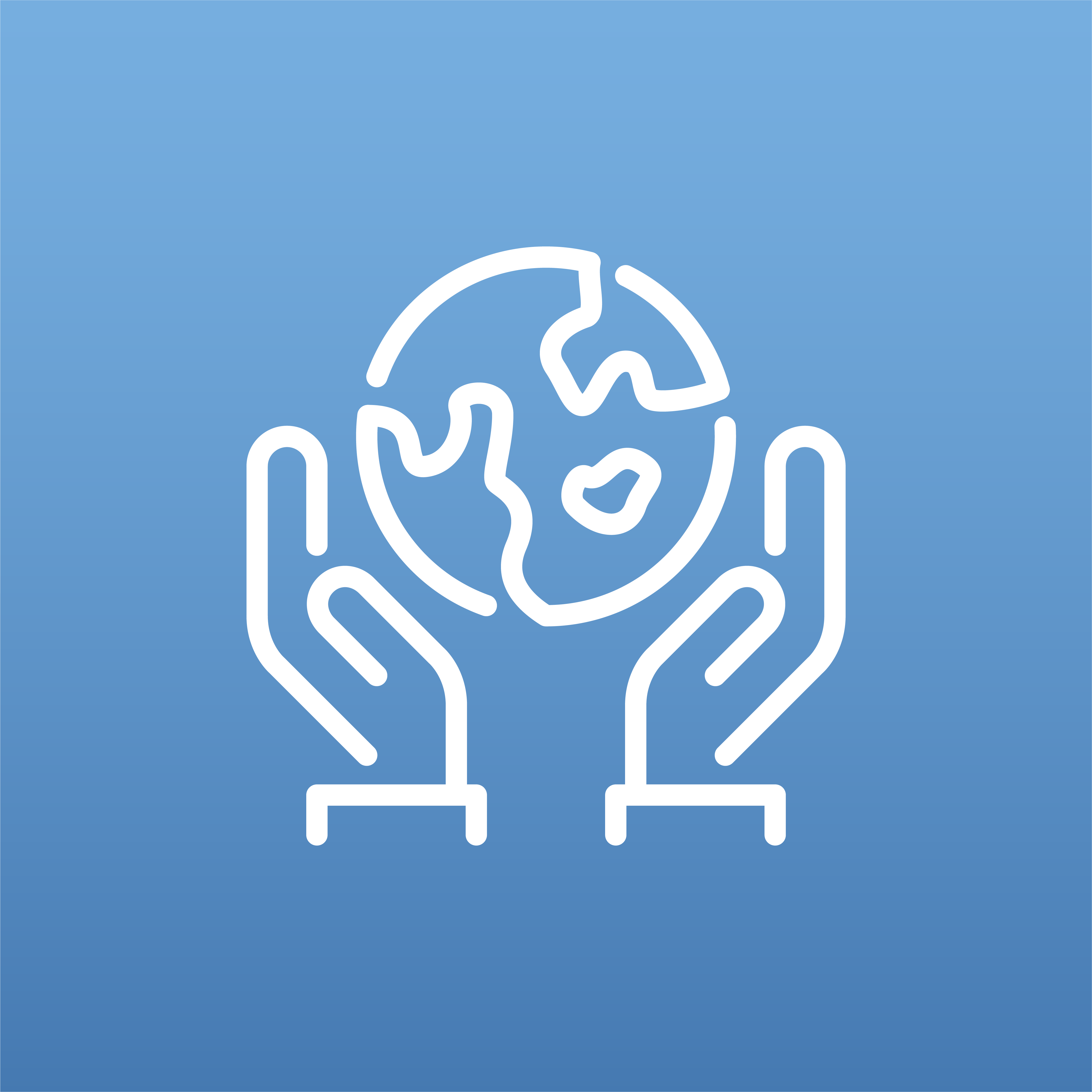 Working From Home
Staycations are also a challenge for content creators. Ignoring the pandemic for just a moment, most content creators work from their homes and it's well documented that working in the same space where you're supposed to be relaxing is less than ideal.
True in the before-times, and made readily apparent over the last two years, working from home can be both amazing and terrible. In terms of workload, working from home can be a huge challenge because there are far fewer – if any – boundaries between your work space and your living space. Work is always right there, just a room away. So what can you do?
Tips for Managing Working from Home
Working From Home
As Take This Clinical Director Dr. B calls out in this helpful Twitter thread, it can be useful to chuck the concept of work-life balance out a window and instead focus on work-life separation.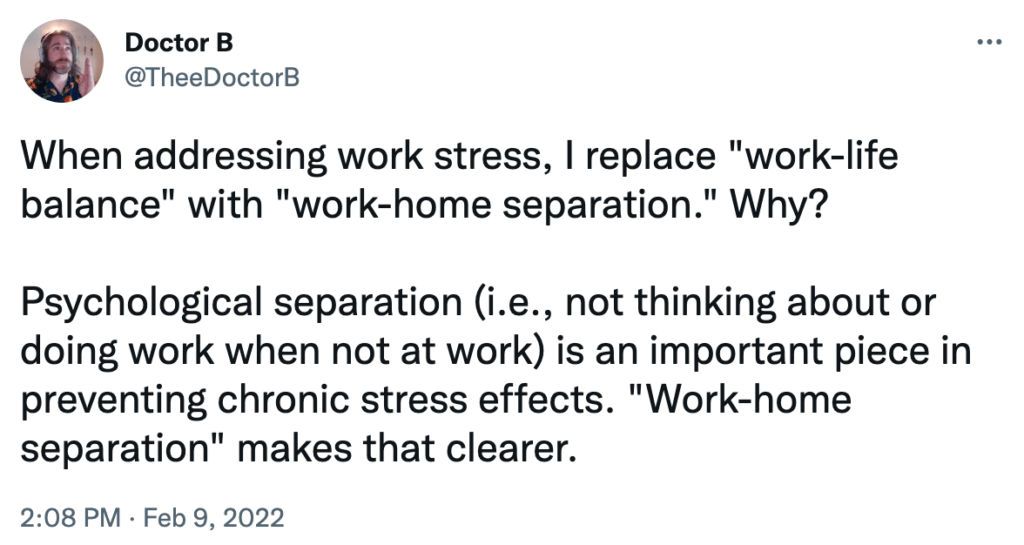 Work-life separation is one way to address "Content Creep"; that is, when your content creation work seeps into non-work areas of your life. The boundary that separates work time from personal time begins to erode one tiny step at a time. For example
replying to that marketing email during dinner
thinking about your next stream while at your kid's soccer game
contemplating whether or not you should turn your cross-stitching hobby into stream content while cross-stitching.
It is nearly impossible to take a break from work if you're bringing work with you everywhere.

The key here is to leave work at work as much as possible. Again, easy to say but difficult to practice. Below are some suggestions we've heard from both mental health professionals and content creators:
Work / Life Separation Strats
Separate work and living spaces
When working from home, having physical cues that separate work space from living space help the brain know when it should be in work mode
A dedicated office is ideal, but even a corner of a room or specific desk or table that is work-only is helpful
Use drapes or even a shower rod and curtain to help visually block off a work space
Avoid doing work on your bed
Rituals
Having a ritual or routine to start and end the work day is another way to cue the brain
Taking a walk outside as a stand in for a commute
Setting up and shutting down your equipment (e.g. computer, lighting, etc)
Having a specific song to start and end your day
Engage Your Senses
Reinforce cues using all your senses
A specific candle or air freshener in your office (smell)
Mint or other candies at your desk (taste)
A keyboard that is for work only (touch)
An instrumental playlist or other background noise (hearing)
A unique wall color or decoration to help define the work space (sight)
Write it Down
Sometimes the muse strikes or we simply remember something we need to do. These pop-up thoughts or ideas can often feel like a gerbil in a wheel spinning non-stop in your head. Writing it down gets it out of your brain so you can enjoy your non-work time.
Have a journal or notepad by your bed for when late-night inspiration or worries hit
Stash post-it cubes around the house so there's always something to write on somewhere
Use voice memos on your phone if you can't find something to write on or you're on the go
Additional working from home resources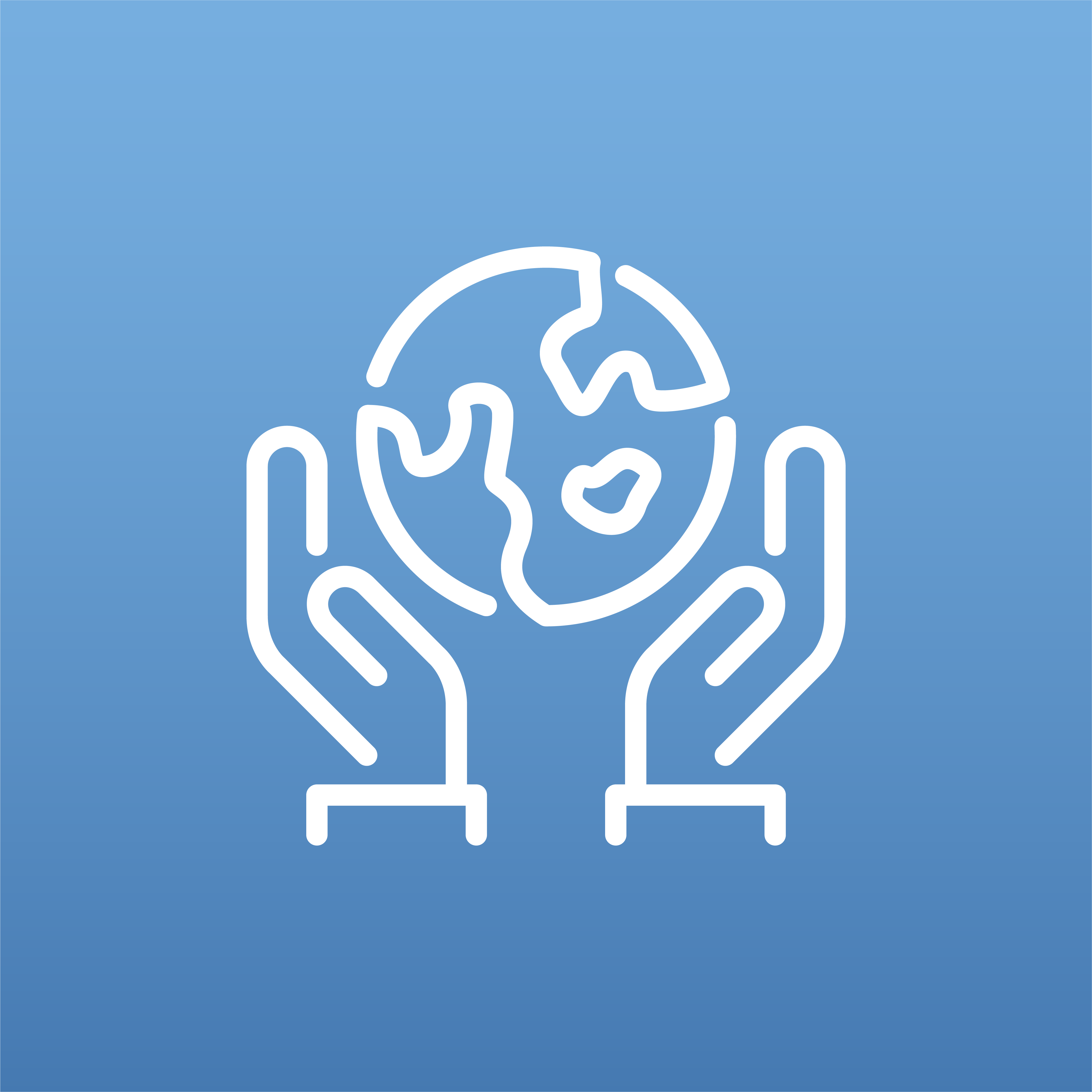 Social Workload
In a 2020 study on the mental health of streamers during the COVID pandemic, Twitch streamers spoke about the challenge of taking a break from streaming. Basically, streamers felt a sense of duty and responsibility to "be there" for the members of their community even at the expense of their own wellness.
This sense of responsibility can make it hard for creators to step away because it can feel like you're letting others down or abandoning those in need.
Then there's the pressure of FOMO. A fear that if you're not constantly creating, streaming, or interacting with your community or collaborating with other content creators that you're falling behind, that you don't deserve the success you've had, or that you will miss out on the next BIG THING. This overlaps with the pressure to chase trends which we talk about more in the Control section.
Tips for Managing Social Workload
As community leaders, content creators often put their audience and communities first, even over their own well-being. However, in order to effectively support others, you first need to make sure your own needs are met.
Everyone's needs are different so there's no one-size-fits-all strategy here. However it can be helpful to ask yourself, "what would putting myself first look like?" and then take steps in that direction.
In terms of FOMO, it's helpful to remember that FOMO is a phenomenon of comparison. When we compare ourselves to others, especially in spaces where self-image is carefully crafted, is a recipe for feeling crappy. Feelings of resentment or jealousy are common and can be accompanied by depressive or anxious thoughts. If you find yourself down this rabbit hole, it can be helpful to take a beat and focus on you. What are you doing well? What are your goals and how are you moving toward them? If you could travel back in time a year or two, what would your past self think of where you are now?
Rewards can come in many shapes and sizes. Most of the time when we think about rewards, external (aka extrinsic) rewards come to mind first. A paycheck is an external reward for working a job; getting praise for good grades is another example. There is nothing wrong with wanting these kinds of rewards, and in fact we need many of them just survive (rent is not going to pay itself). One of the problems with external rewards is that you are not directly in control of whether or not you're rewarded. By definition, external rewards require that someone else has to give you the reward.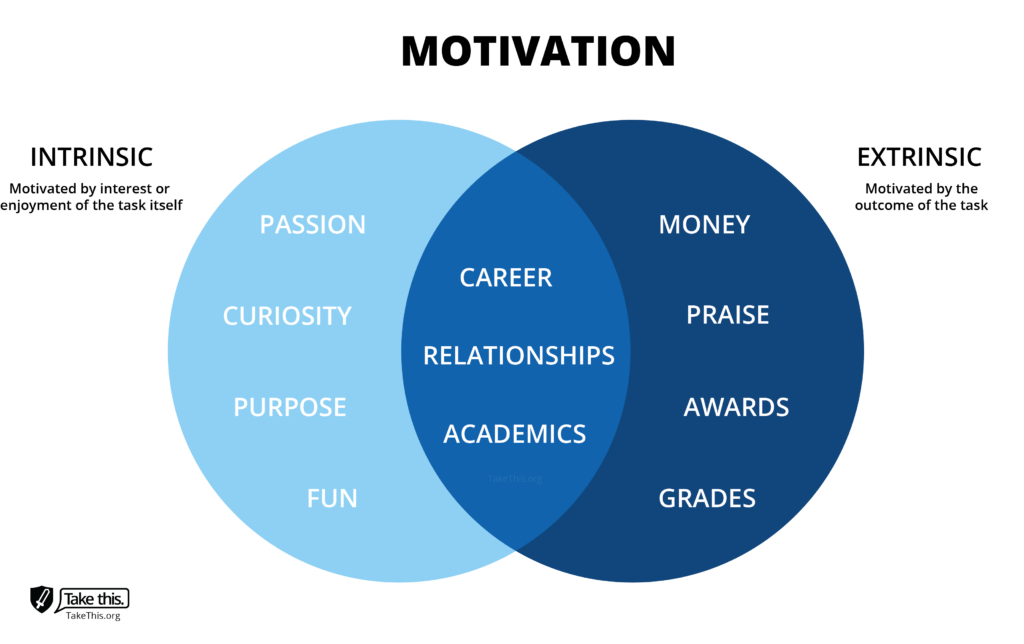 Rewards can also be internal (aka intrinsic) like satisfaction or a sense of purpose. Yes, getting paid is strong motivator to get up and go to work, but feeling like you're making a difference or deriving a sense of fulfillment from your work is an additional motivator for showing up. Internal rewards can be very powerful but they can also be harder to come by. If I show up to work, by law I get a paycheck but personal satisfaction is not guaranteed.
---
Reward Imbalance
A big challenge about content creation is that, like a lot of creative and entrepreneurial pursuits, it doesn't have a predictable, consistent return on investment. Hard work is necessary to be successful, but working your tailfeathers off still doesn't guarantee growth, financial stability, recognition, or any other common indicators of success.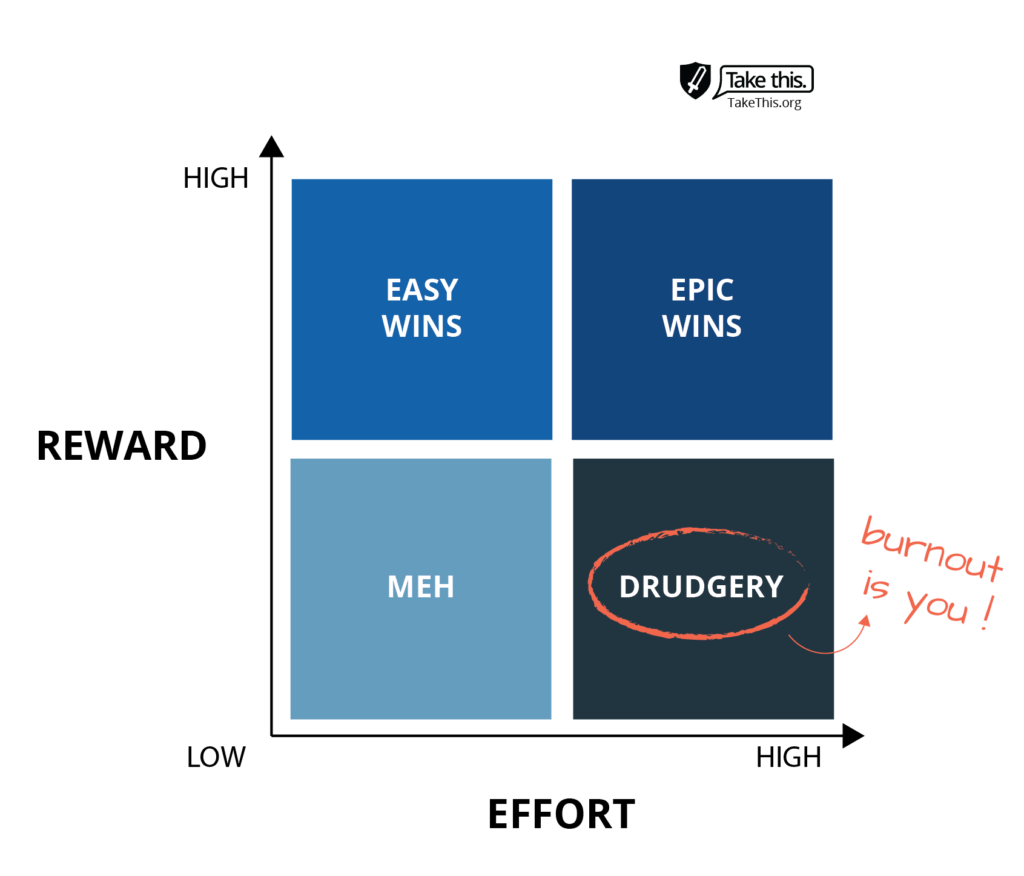 Reward's Role in Burnout
Recall that the burnout triad is exhaustion, ineffectiveness, and detachment or cynicism. Content creation can be exhausting work, even if you're just doing it for fun, because it requires time and effort and creativity and a host of other talents and skills depending on the medium.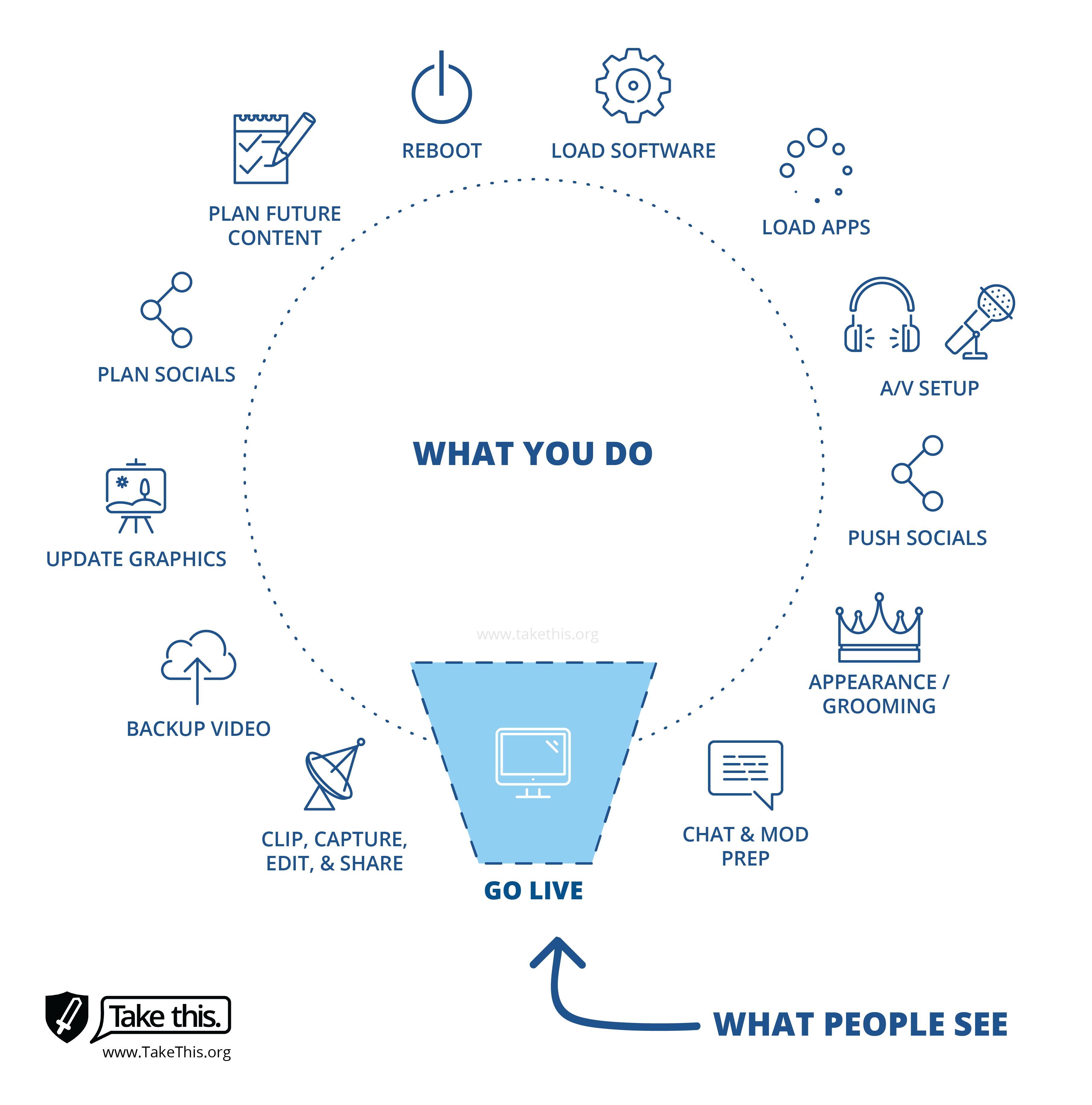 Remember this graphic on the left from the Workload section above? It can be really demoralizing and demotivating to feel like you're working hard but getting little to nothing in return. Remember, 'return' could be followers, concurrent viewers, subscriptions, Patreon supporters, Ko-Fi donations, social media shares, website hits, etc.
​Imagine if you didn't get paid for showing up to your job. You'd probably feel angry or cheated and eventually quit. The same feelings can pop up in content creation when you're putting in effort but not seeing that that effort is recognized or rewarded.
---
Managing Rewards
When talking with content creators about their strategies and struggles for balancing effort and outcome, two main recommendations consistently came up: meaningful content and reasonable goals.
Meaningful Content
For many people, a potential solution is to focus on putting out content you truly enjoy creating. If you're an aspiring professional, making content that matters to you or brings you joy makes it easier to roll with the punches of being a content creator and sustain the type of effort required to grow a bigger audience or earn financial rewards. This advice is especially true for hobbyists – by definition a hobby is something that is done for relaxation, happiness, or pleasure. If you feel like the effort you're putting in is exceeding the happiness or fulfillment you get in return, this is a warning sign that your hobby is becoming work.
It's important to do things that feel playful and frivolous and fun and enjoyable. Everything doesn't have to be a side-hustle.

Dr Rachel Kowert, Take This Research Director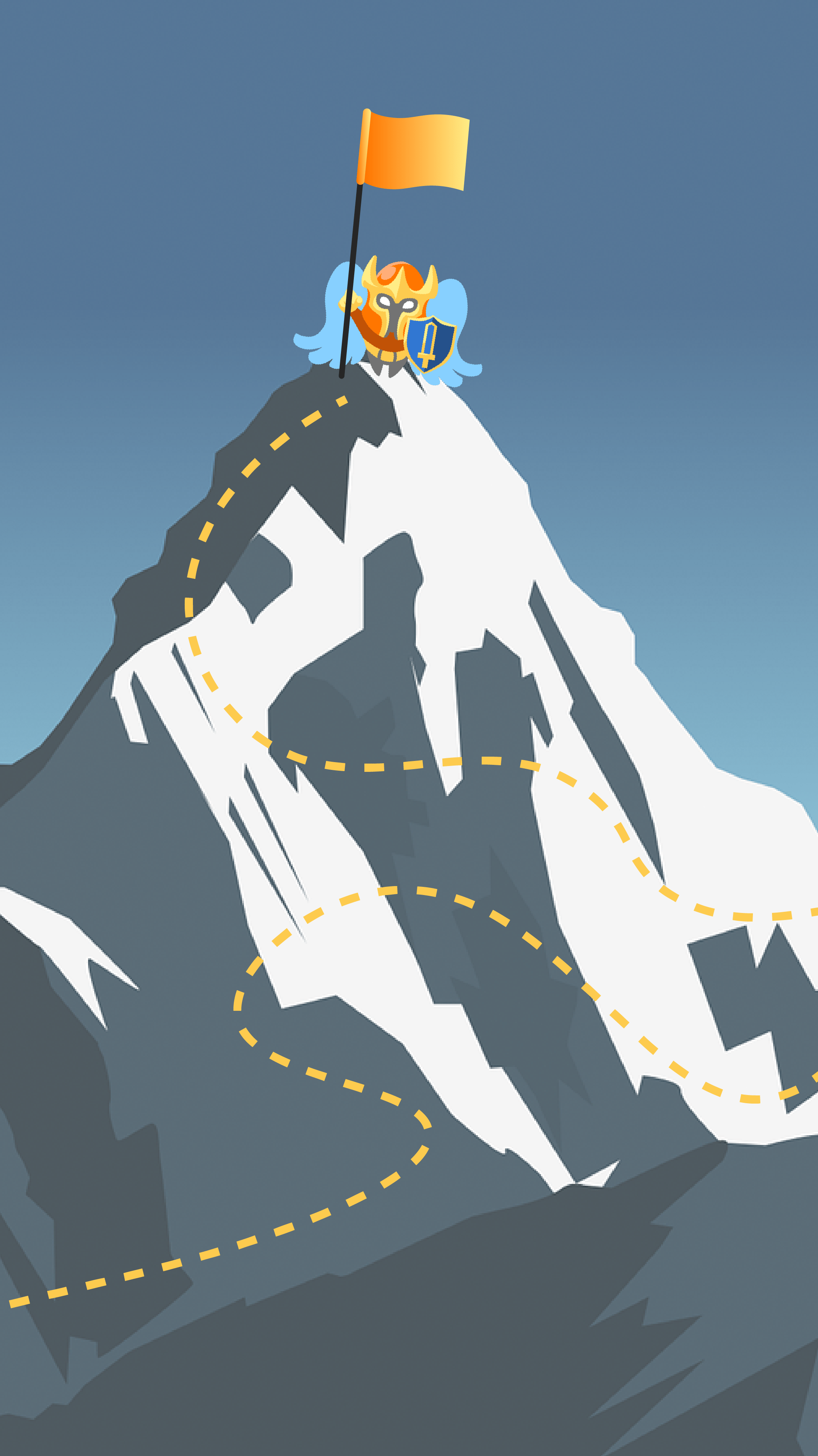 Reasonable Goals
Reasonable goals and expectations can also feed your sense of reward. If people set their goals too high, they're going to consistently feel defeated when they don't reach them. You should have specific goals that are moderately challenging, but if you're consistently not meeting them, they might be too challenging.
Unfortunately, no one really ever teaches us how to set goals, much less "reasonable" goals. It'd be so much easier if life just handed us a quest list, complete with major tasks, their subtasks, and whether the quest was a main quest that needed attention or just an optional side quest. (And yes, for all you completionists out there, side quests are optional).
Within the context of burnout, control is feeling you have autonomy to set your own goals and how you achieve them. Usually, lacking control looks like being micromanaged or having no say in your work goals, timelines, or how you accomplish your work.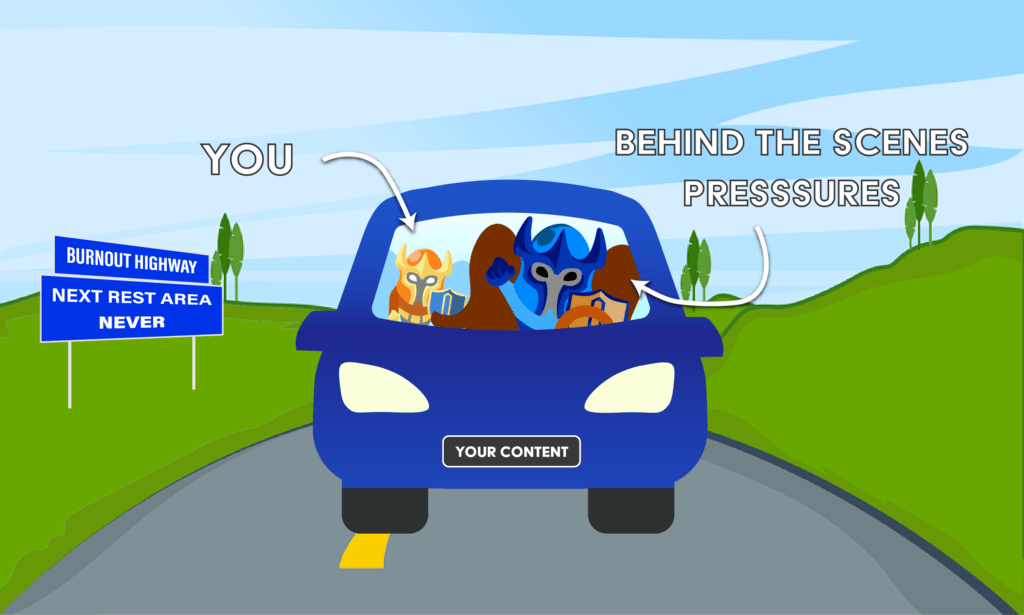 At first glance, content creation seems like a highly autonomous place. After all, you decide what to make or play, what platforms to use, what your working hours look like, how frequently you work, etc. However, there's a lot of 'behind the scenes' pressures influencing those decisions and it can feel like you don't have control over your own creative work. This feeling of restriction, of lack of control over your own content, can contribute to burnout.
Obstacles to Autonomy
While it might seem like content creators are free to make whatever they want, that is simply not the case. Content creators encounter pressure from fans, communities, and the platforms themselves that can strongly influence almost every facet of their work.
A common stressor reported by creators is feeling pressured to chase trends. Some of the most common trends creators feel pressured to chase are algorithmic trends, world event trends, and content trends.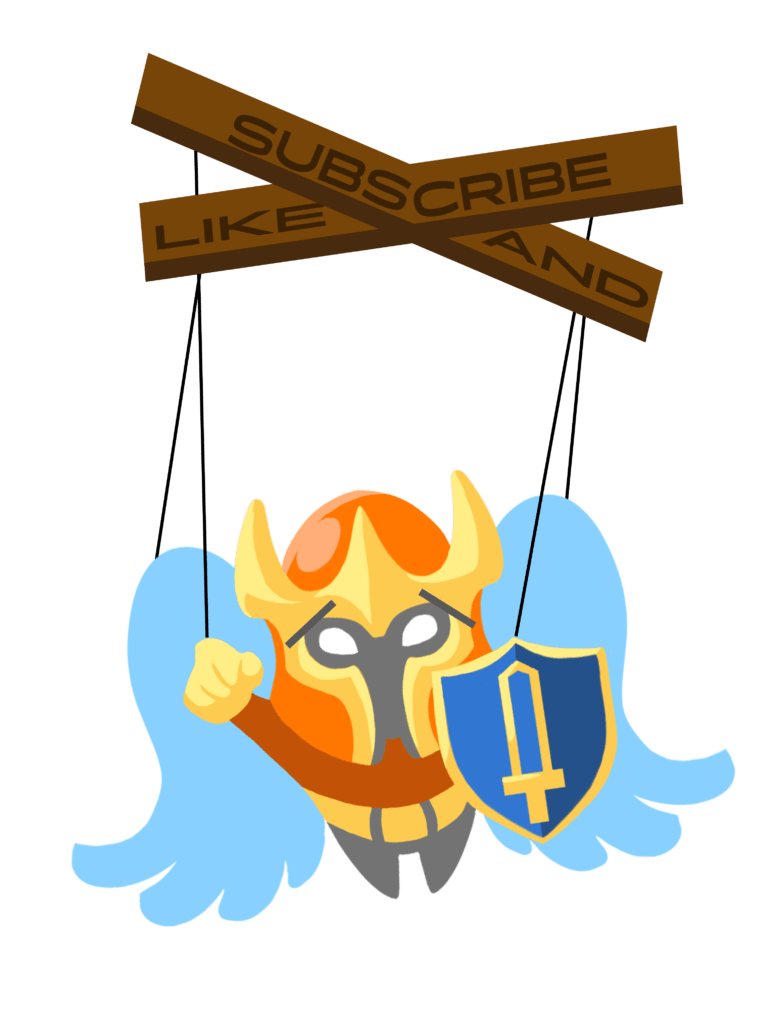 Chasing Trends
The Almighty Algorithm
Content creation platforms rely on algorithms — a programmed set of rules that determines how content is displayed and what content gets promoted or featured. Being on the front page of Twitch or on page 1 of a Google search means increased visibility which, in turn, can lead to increased views, subscriptions, followers, or other rewards.
It makes sense that content creators who want to grow their audience or increase their profile take steps to understand the algorithm and use it to their best advantage. For example, YouTube's algorithm values 1) the amount of time people spend watching a video and 2) what percentage of the video gets watched. So, when making a YouTube, video creators want to make a video that is as long as possible (maximize watch time) while still retaining viewers for at least 50% of the video (average view duration).
This algorithm encourages creators to make videos that are about 8 – 12 minutes on average, though it changes based on type of content, the target audience, and a variety of other factors. But this is only one of many factors that contribute to discoverability and monetization. Furthermore, platforms often change their algorithms, so even if you've optimized your content strategy, there's no guarantee on the longevity of that strategy.
World Events
Content creators, like their viewers and fans, are human beings with human emotions and human needs. As was evident in this 2020 study on streamer mental health during the COVID-19 pandemic, world events had a major impact on streamers and the kind of content they produced.
For some, it was important to discuss issues related to COVID and create space for their community to share their experiences. As community leaders, some streamers felt pressured to be "superhuman," the emotional rock for their community.
Oh God, it feels like there's a lot of pressure to not be a human being and just be an entertainer, I feel like any time I have any sort of an emotional reaction on the stream, I'm just supposed to hide it because all my viewers need a distraction and I'm supposed to be that distraction.

Study participant M1
Other streamers felt like their streaming spaces needed to be COVID free, a place where people could come and forget the strains and stresses of the pandemic.
Trying to be sensitive to people who wanna talk about COVID and people who don't wanna talk about COVID… It's a hard balance of trying to meet everybody's needs.

Study participant J2
In both cases, streamers felt compelled to change up their content, their chat rules, and their community interactions.
What's Hot in Content
Even though the claim that our attention spans have shrunk to 8 seconds is wildly inaccurate and 100% debunked, it is true that capturing and holding attention in the digital content creation space can be incredibly challenging. One way content creators try to keep their current audience while attracting new viewers is by featuring whatever is captivating the digital zeitgeist at that moment.
For example, in late 2020 it seemed like every streamer and YouTuber was playing Fall Guys. Earlier that summer, it was all about Among Us. When this section was written, Elden Ring was in the spotlight.
Playing a new game, especially if you have early access, can absolutely draw new viewers. But for some, feeling pressured to always be playing the newest game or bouncing from game to game can be exhausting. Feeling like you need to feature a new game (or film, or TV show, etc.) even if you don't like that particular game diminishes enjoyment and contributes a sense of helplessness or cynicism.
There's also the potential for a strong sense of guilt or FOMO if you don't — or can't — chase the content trend, and resentment or jealousy toward those that do.
Other Pressures
There is no shortage of pressures acting on content creators. In addition to chasing trends, creators can experience intense pressure from both fans and critics.
Hate and Harassment
As called out in the burnout chart in the Control section, hate and harassment significantly to creators feeling burned out. And, as discussed in the Burnout 101 section, marginalized creators receive a disproportionate amount of hate and harassment even with all the extra steps they take to protect themselves. Of course, hate and harassment isn't just limited to the stream. Many creators have had viewers engage in stalking behaviors, including following the creator across multiple platforms as well as showing up in person at events. Harassment can escalate to abuse, where the life of the creator – and sometimes their friends or families – are threatened. Fear of being verbally abused, stalked, swatted, or doxed can all understandably have an impact on how a content creator shows up, from what and when they play to what events they attend or opportunities they turn down. 
For resources and support dealing with online hate and harassment, visit our Mental Health Resources page.
Never Change
While there can certainly pressure to change things up based on whatever the new hotness is, there can often be significant pressure to keep things the same. It's not unusual for a streamer to become well-known for playing a specific game and then face backlash from their community for wanting to move on or do something new. This can cause significant distress because the streamer no longer feels like they're in charge of their own work. It can feel like they've almost been taken hostage by their own community, that they're no longer their own individual but a character in someone else's story.
All of these pressures can contribute to a sense of powerlessness or lack of control and can contribute to burnout.
Reclaiming Control
So what's a content creator to do? Here are some tips that other creators have shared that have helped them get back in the driver's seat.
Perfection over pursuit
One way of reclaiming control is to focus on improving and perfecting content you want to make rather than chasing the latest hotness. This includes the technical side of things, such as production quality, as well as things like performance on screen, skill in game, or engagement with the audience. For some, bouncing from game to game or project to project is their strength, but being really good at one or two things is also a legitimate strategy.
Work with your brain, not against it
If you haven't already, take a moment to think about how you work and design a schedule that aligns with your optimal working style. For example, do you do your best work in the morning or at night? Do you enjoy streaming a few times a week or intense weekend-long gaming? What obligations do you have and how can you create schedules, timelines, and productions processes that are optimized to your needs and strengths?
There's no one right way to be creative, but there are ways that make creativity more challenging and less enjoyable. So let go of the idea that you "should" be creating one specific way and focus on what works for you.
Community and Burnout
Community is factor number four in contributing to burnout. For content creators, when we think 'community,' we think about our audience — followers, viewers, Discord members, etc. In burnout research, however, community refers to our colleagues, co-workers, peers, and the sense of connection and belonging we feel with them. When we don't feel belonging or connection, it can contribute to burnout.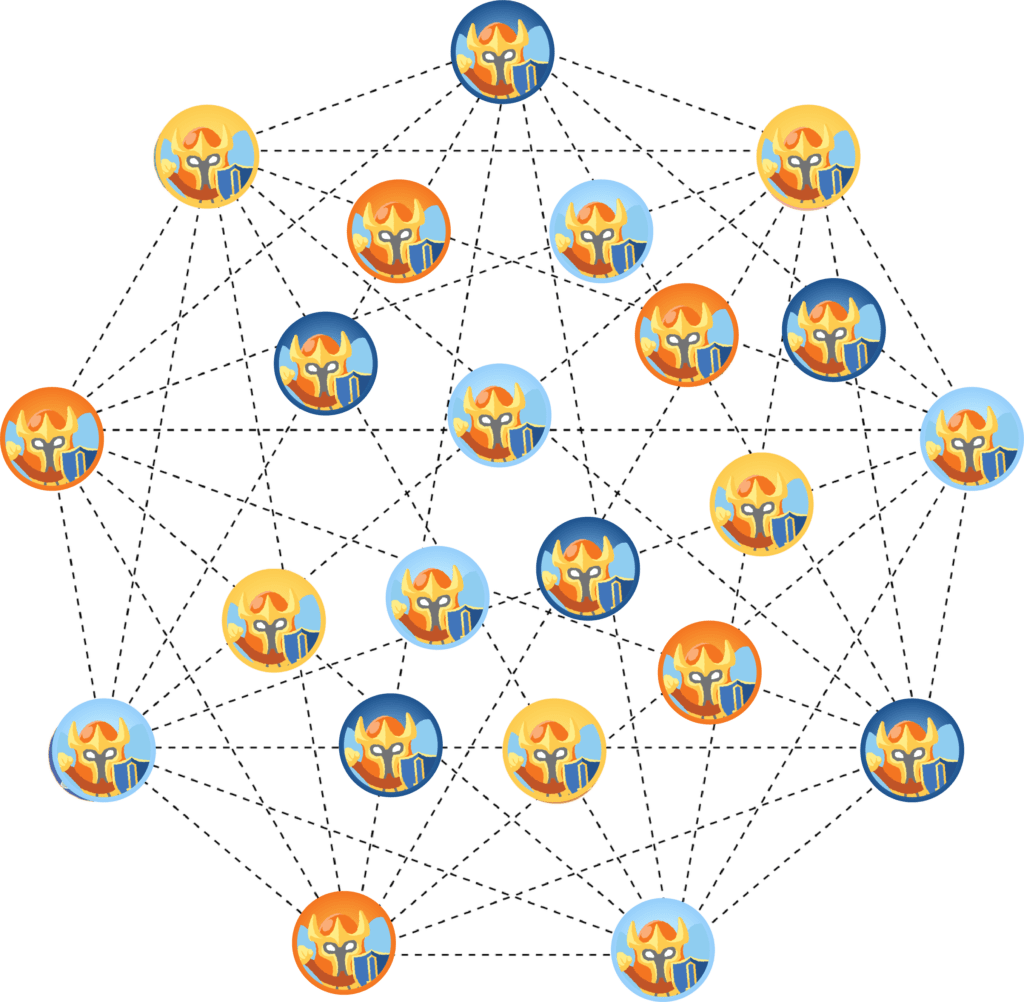 Obstacles to Community
In traditional work spaces, community refers to the overall social environment of the office. Things like closeness of co-workers, perceived peer support, and ability to work as a team all contribute to a sense of community. A healthy work community is one where people work with people they like and respect, where there's a sense of ease, happiness, and humor that reinforces that you belong to a group with similar values. The fastest ways to tank a sense of community – and consequently increase the chances of burnout – is 1) isolation and 2) chronic and unresolved conflict within the workspace.
Community Challenges for Content Creators
So what does this look like in content creator workspaces? The two main obstacles in a traditional workspace – isolation and conflict – are still major obstacles in content creation.
Isolation:
Community isolation gets a little tricky as a content creator because most content creators are working at home. Most of us don't have in-person coworkers to chat at the water cooler or bounce ideas off of. Even if you have a team that helps you with your channel, odds are that they're remote. While we can absolutely have important, meaningful relationships remotely, it takes a greater amount of effort to create a sense of camaraderie, closeness, and community in digital workspaces.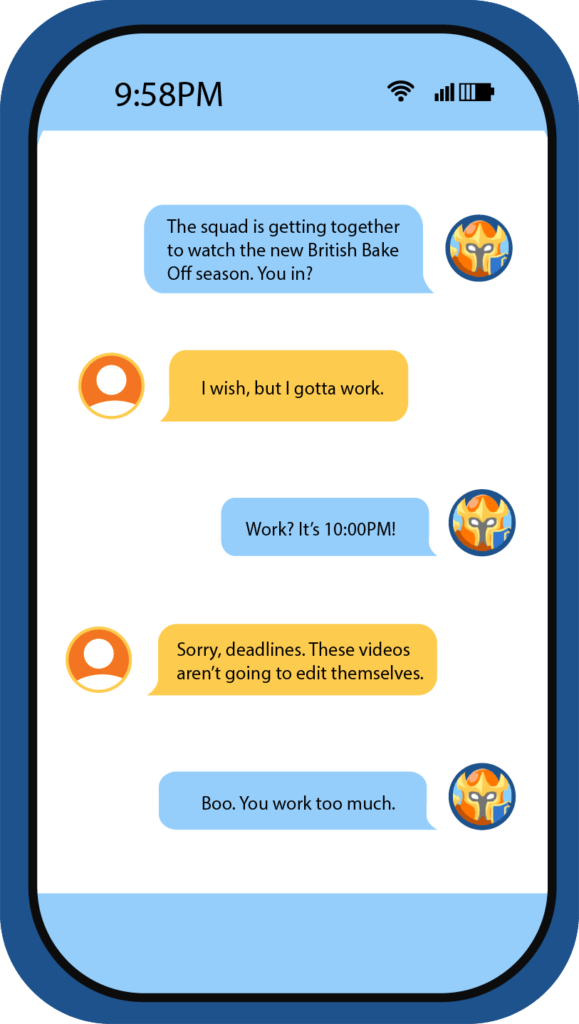 Conflict at Work:
As discussed in the Workload segment, content creators can have a hard time disengaging from work because their workspaces and play or relaxation spaces often overlap. This is especially problematic when there's conflict or drama in the digital workspace.
At an office, you can leave the office politics or bickering at the door, but because creator communities tend to be close-knit and because you continue to be in those spaces even during off-work hours, the tension and stress that comes with conflict is almost inescapable.
For example, there's been very public situations in the past where a streamer has been revealed to abusive, sexist, or racist (or all three) and the revelation causes a social media sh*t storm. It's human nature to want to reach out to your peers for support, but when that support is provided in the same space where the drama is going down *cough*Twitter*cough*, it can feel like there's no place where the stress of conflict doesn't follow you.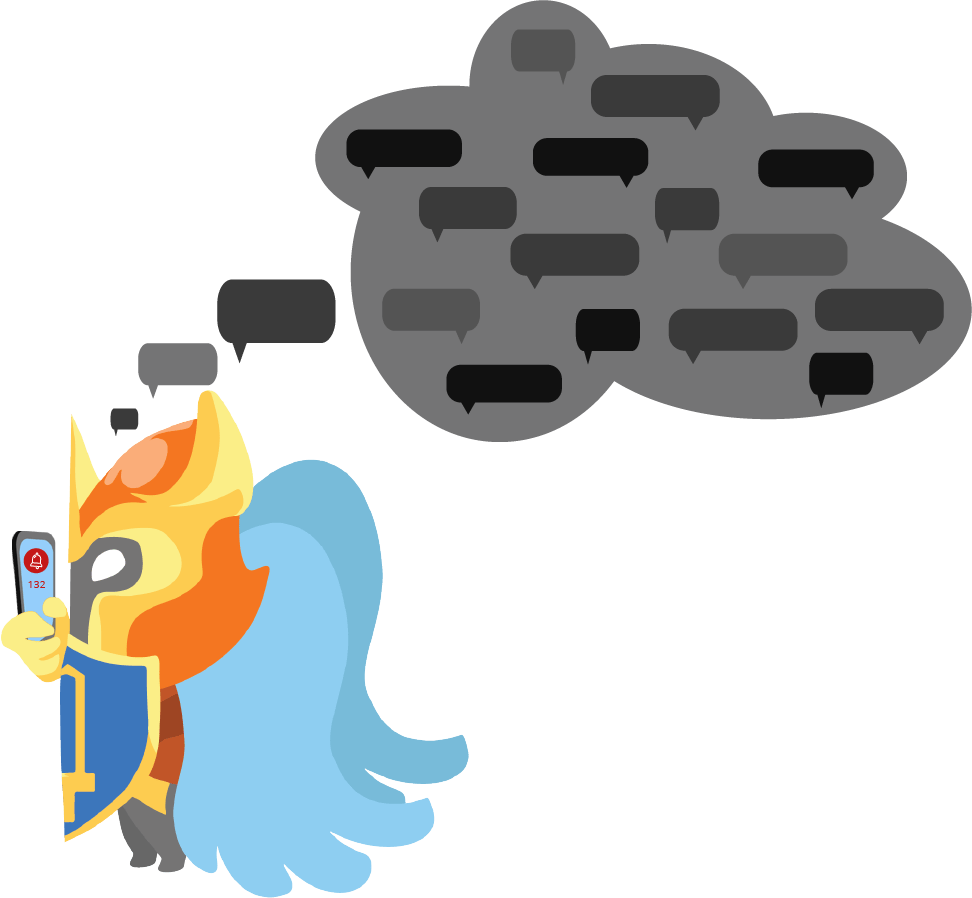 Creating Connection & Community
Despite being in a hobby or career that is highly social and almost always connected, content creation can be a lonely place. Here are some tips and suggestions for preventing or addressing community-related burnout.
Looking for Group​
One suggestion we've heard to help create a sense of community is to join a group for regional content creators. A lot of major metropolitan areas have groups with both an online presence, as well as in-person meetups and programs. Finding a group of supportive people who share similar work experiences can be a helpful way of finding connection, support, and helpful advice.
Buddy System
Individual connections can also be helpful. If possible, find another person whom you work well with, and can have regular, in-person or digital working sessions. This can give you the opportunity to connect and collaborate with someone with similar interests and experiences, decrease social isolation, and increase the feeling of belonging.
You Contain Multitudes
The importance of finding community and connection with colleagues can be especially true if you are able to connect with creators who share overlapping identities with you. Each aspect of our identities brings with it unique experiences that those outside those experiences can't fully understand.
I'm autistic. Most people in my life do their best to make me feel included, and it shows. I'm deeply appreciative to them. However, there are things I face on a daily basis that they won't understand the way other autistic people do.

Dr. B. Clinical Director at Take This
What is Fairness?
Fairness in the workplace means that workers feel decisions are equitable, and that all people are treated equally and with respect. Pay, workload, opportunities, evaluations, and promotions are key places where fairness (or unfairness) show up.
Keep in mind "fairness" doesn't mean giving someone the outcome they want. Fairness is a process where people feel that they've been able to share their perspective or feedback, their experiences have been duly considered, and they've been treated with respect.
Obstacles to Fairness
Power differential is a term used to describe the difference in power or influence that one person has over another. In the workspace, a supervisor has more power than a worker. In college, professors have more power than students. In healthcare, doctors have more power than patients. In each case, the difference in power means the authority figure has the ability to influence or apply pressure on the less powerful person. In the best circumstances, those in authority positions are aware of the power they hold and intentionally act in ways that are fair, equitable, and just. In less ideal situations, the power of authority can be used as a baton to force compliance. Fairness lives and dies by power differentials.
Fairness (or Lack Thereof) in Content Creation
Fairness is predominantly a platform-level issue and is all about trust, discrimination, and favoritism. Content creators have precious little control or influence on the decisions made at the platform level which can contribute to a sense of helplessness or lack of autonomy. Furthermore, creators are rarely privy to the process behind decision-making which means trust in the process or belief in the fairness of the process and its outcome is fragile at best.

Below are some questions you can ask of your platforms and for platforms to ask of themselves: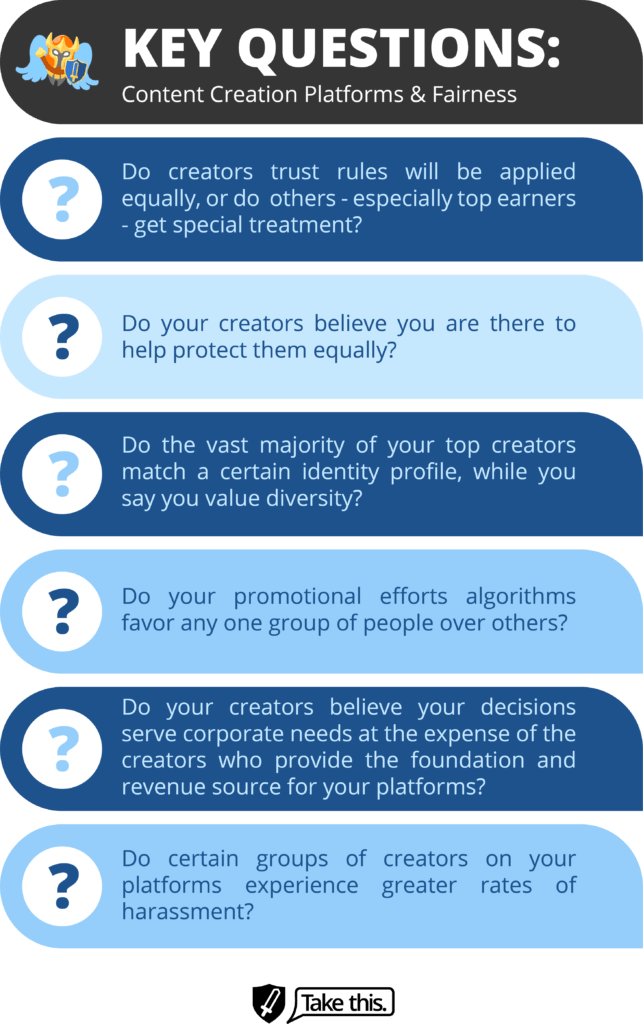 Do your creators trust that rules will be applied the same to everyone, or do your creators believe that others – especially top earners – get preferential treatment?
Do your creators believe you are there to help protect them equally?
Do the vast majority of your top creators match a certain identity profile, while you say you value diversity?
Do your promotional efforts algorithms favor any one group of people over others?
Do your creators believe your decisions serve corporate needs at the expense of the creators who provide the foundation and revenue source for your platforms?
Do certain groups of creators on your platforms experience greater rates of harassment?
Regardless of your intentions, if content creators believe the rules apply differently to different people, if they feel that decisions are made to serve the company over the creators (especially behind closed-doors), if they believe you don't have their backs if they are harassed, stalked, or threatened, then they don't have trust in you and that's contributing to their burnout.
Modeling Fairness
As described above, fairness in content creation is largely a platform level issue. However, there are things that content creators can do.
Model Behaviors
Make fairness part of your community's culture. Once people get a taste of what it's like to be treated fairly and with mutual respect, they're often less tolerant of others who treat them poorly. This is closely tied with the upcoming section on Values. Having clear community rules and guidelines is a core part of community culture development and maintenance.
Fight for Fairness
Hold others accountable. Be an active advocate. The loudest voices in the room are the ones that are often heard – let that voice be one fighting for equity. And always remember that when fighting for fairness and justice, caring for yourself is an act of defiance against those who stand in opposition of those values.
Fighting for fairness is also made less heavy by fighting alongside allies. This can be a hefty challenge for content creators, as discussed in the Community section. Protective bodies like unions don't really exist for freelancers, though recent shifts in the gaming industry toward unionization could be a signal of systemic shifts to come in digital creative spaces.
What Are Values?
Generally speaking, values are your principles or standards for living a meaningful life. In an occupational context, values are a set of beliefs, ideals, and practices that guide a company or organization. In terms of burnout, values are the motivational bridge between worker and workplace that extends beyond external rewards (e.g. paycheck, promotion, etc). Burnout is much more likely to happen when there's conflict between your personal principles and the performed (not just stated) values of the workplace.
Content Creators vs Platforms
A lot of value-based conflict between creators and platforms is how platforms enact their values. This is more than just expressing platform values in a blog post – it's about the organization consistently and continuously acting in line with the stated values. Even if a content platform expresses values that match yours (e.g. inclusion, diversity, etc), if the day-to-day decisions of the platform don't align with their stated values, it can contribute to creator burnout.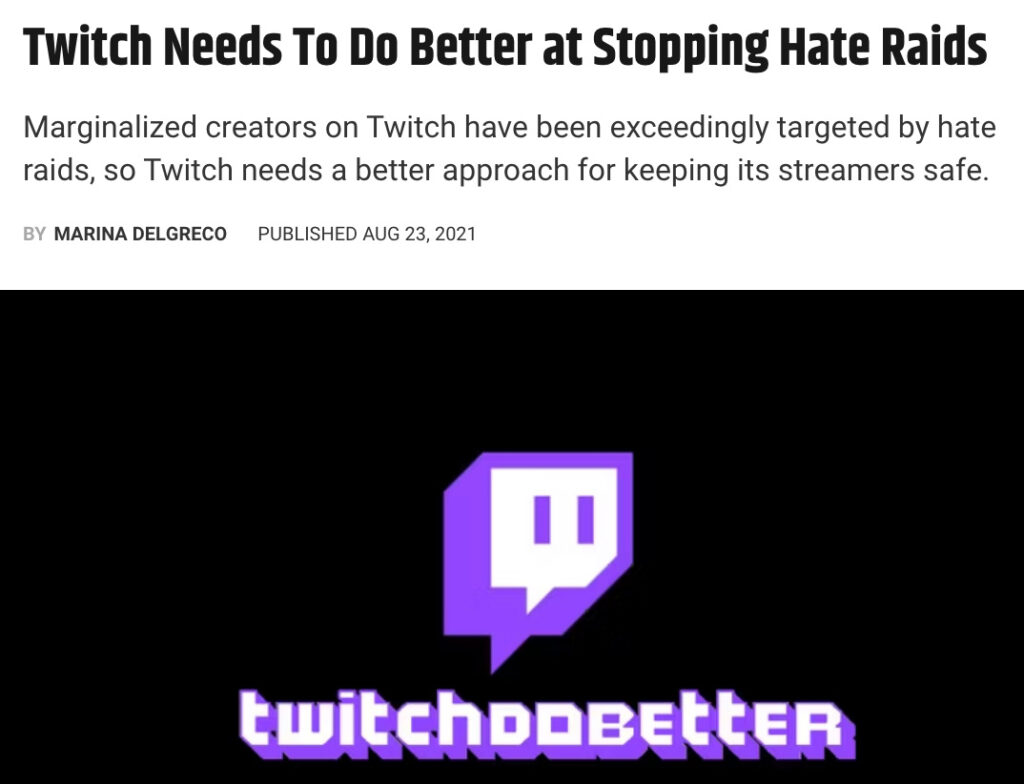 Protect Your Valuables
On an individual creator level, you can protect and promote your values by making content that is meaningful to you. If you value education, maybe add a learning element to your content. If you value diversity and inclusion, you can actively promote different people and perspectives that uplift the community. If service and community are important to you, perhaps look into ways of directly supporting other creators!
Whatever your values, adding meaningful purpose to your work can often help sustain your efforts longer than money can. This is especially true with creative endeavors where most people don't make a lot of money. If you are making enough money to create content full time, money alone might not be enough to sustain you if your content isn't personally meaningful. Especially given how many hours you put into your work. This can also apply to the ways in which you manage your community and how you approach any potential partnerships, collaborations, and sponsorships.
Meaningful, purposeful work goes a long way to keep us going.
Thank you so much to all of the contributors and reviewers whose feedback and insight made this page possible:
BlushingCrafter
Dasbif
Goblinkatie
Haughty Chicken
Liz Favtastic
Rachel Kowert, PhD
Mxiety
EmotionalSupportUnicorn
Jebro
mugoi usagi
Jessica McCabe
Tanya DePass
KingArgaroth
Wordfangirl
Kaemsi
Micropixel
Sarah Hays, PsyD
Eve Crevoshay