Gamers Helping Gamers
Crowds, schedules, the immediacy of once-a-year events and other stressors common at conventions and expos can be triggers for many emotional issues, especially anxiety and depression.
More than a quiet room, the Take This AFK room is a staffed, relaxed space for anyone who feels overwhelmed and needs a place to regain their calm. It is run by local volunteers and clinicians, trained by Take This, to moderate and maintain the atmosphere of the AFK Room. We strive to offer education, resources, and a listening ear to convention attendees without verging into offering therapeutic treatment.
Some visitors simply need a break from the excitement and stimulation of a large event. Others seek conversation about mental health related issues. Still others check in to support us and our mission. We are happy to meet you all.
Since Spring 2014, Take This has hosted AFK Rooms at every North American PAX event, with hundreds of visitors per day. Starting in 2015, the AFK Room has been available at every PAX worldwide, and we've brought it to many other events as well.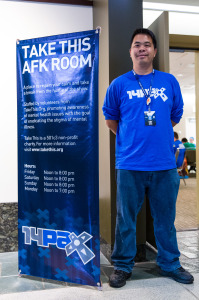 For more about the Take This AFK Room,
please see our FAQ page
or contact us.
If you are a mental health care practitioner and would like to volunteer for the AFK Room,
please fill out our volunteer form 
or contact us.
Take This®, Inc. seeks to educate, inform, and advocate about about mental health issues in our community.  We do not provide mental health services or professional consultations. For information on when to seek dedicated clinical help and how to find it, please visit our "When to Seek Help" page. If you or someone you know is in crisis, in need of immediate intervention, and based in the US, please visit the National Suicide Prevention Lifeline or call 1-800-273-8255.  You can also text AFK to 741741. Information for other countries/areas can be found here.