Governance
In an effort to be transparent in the work that we do, below we've outlined our Ethics & Standards, Annual Reports, our financial breakdown, and team policies.
Ethics & Standards
Take This is a mental health organization providing comprehensive resources, support, and consultation tailored for the unique needs of the game development community. We embrace the diverse cultures and issues of the game community and work with a team of trained mental health professionals and internationally known researchers to set policy and best practices to provide materials and resources that are scientifically accurate and ethically delivered.
Doing mental health work in public spaces, especially online ones, presents unique ethical challenges. Based on best practice and guidance from the American Psychological Association ethics codes, Take This provides general education and resources that are backed by research and relevant to the gaming community.
Take This combines ethical best practices in mental health education with a love of all things gamer, providing a safe, accepting space for gamers and developers. They work in a spirit of partnership with other organizations addressing these issues among game enthusiasts, streamers, and creators. Take This adheres to strict ethics guidelines in order to protect the public and prevent exploitation.
These guidelines are:
No individualized recommendations
No personal advice
No individualized treatment
We respect your privacy and autonomy
All generalized suggestions and/or recommendations are empirically based on the latest, interdisciplinary research
For more general information about Take This' mission, vision, and foundational goals, please visit About Us.
Annual Reports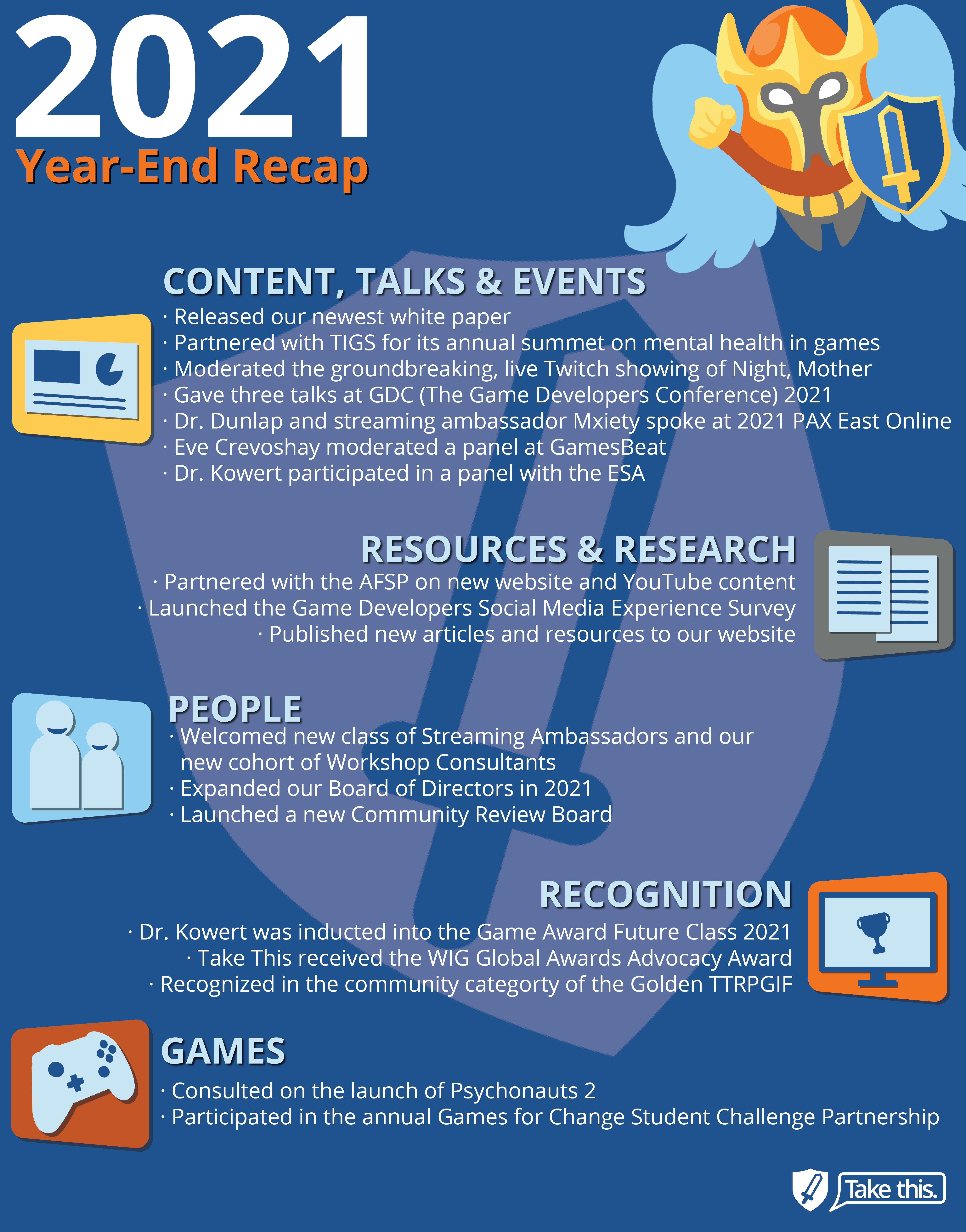 Read our full annual report on 2021 here or 2020 here.
Financials
Policies
Social Media Policy:
Take-This-Social-Media-Policy-v.1

Discord Code of Conduct:
Discord_Code-of-Conduct