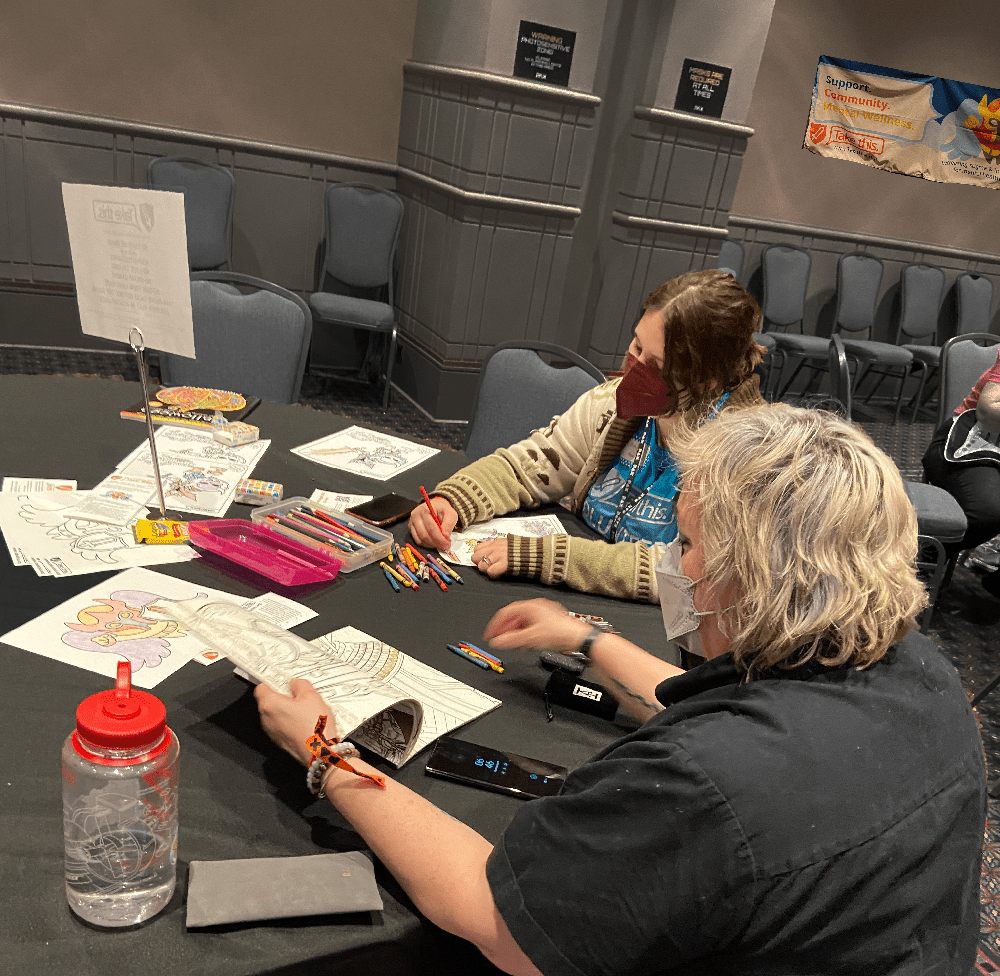 Programs
AFK Room
The Take This AFK room is a staffed, relaxed space for anyone who feels overwhelmed and needs a place to regain their calm.
The AFK Room Program is more than just a quiet, mental health space. It is a full, comprehensive convention wellness program that operates for convention attendees and convention staff. It's comprised of three essential factors:

• Programmatic evaluation
• Staff wellness and distress intervention training
• The AFK Room
The Take This AFK room is a staffed, relaxed space for anyone who feels overwhelmed and needs a place to regain their calm. It is run by local volunteers and clinicians, trained by Take This, to moderate and maintain the atmosphere. We strive to offer education, resources, and a listening ear to convention attendees without verging into offering therapeutic treatment.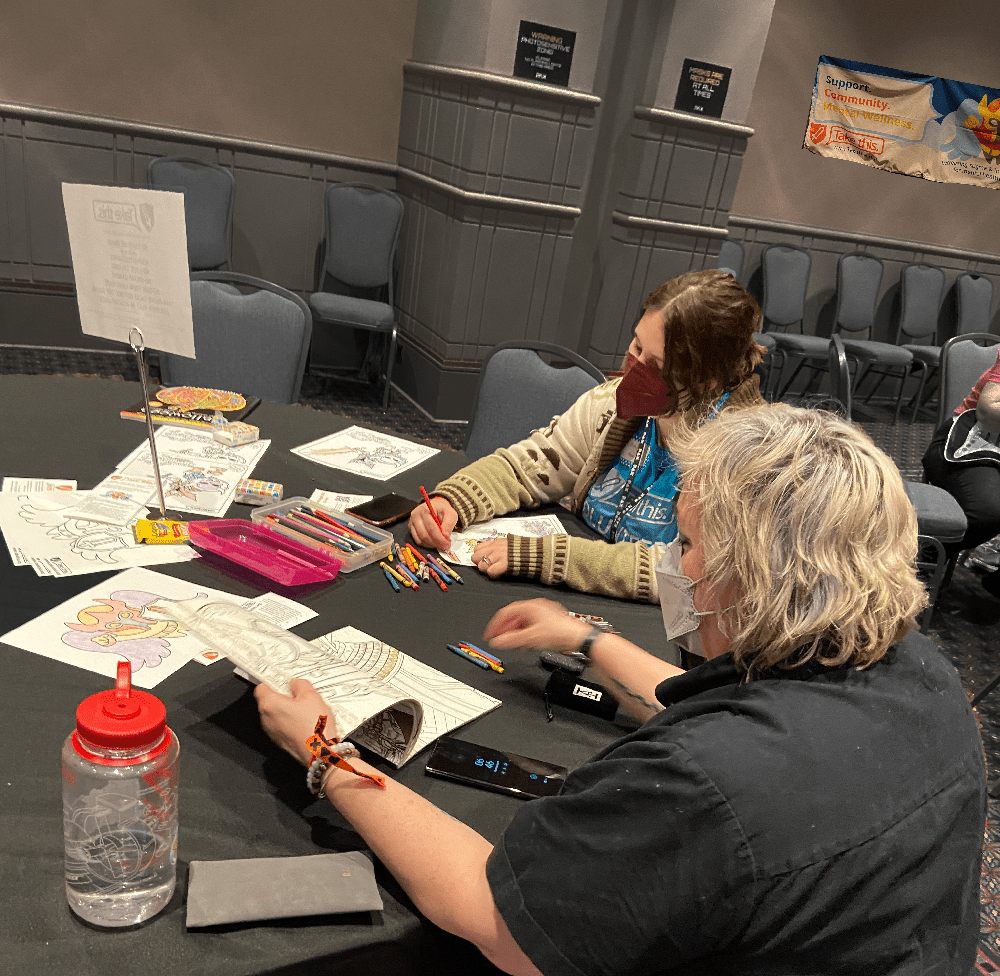 ---
Take This also offers AFKOnline! It is a moderated Discord server that has been specifically designed to offer non-therapeutic emotional support to attendees. It will be active and staffed with volunteers throughout the course of the convention. Volunteers will offer empathic support, answer questions relating to mental health information, and provide resources. The server will also have moderators to maintain a calm space for folks to relax and discuss the convention. As always, Take This volunteers and clinicians do NOT provide mental health services or professional consultations at any time in our discord or during AFKOnline.
Note: AFKOnline is not currently available in our Discord server. It is offered in conjunction with certain online events.
It means we're old. AFK is an internet acronym meaning "Away From Keyboard" that dates back at least two decades. It represents the idea that the AFK Room is a means of getting away from the hustle and stimulation of crowded convention spaces. As one of our founders likes to say, "The AFK Room is the most boring room at the show, by design!"
Why should conventions have AFK Rooms?
As awesome as conventions are, they're also mentally and physically exhausting. They can be overstimulating and anxiety-inducing. They create conditions for interpersonal conflict to arise and emotional distress to set in. AFK Rooms are designed to be a break for convention attendees: whether they just want to sit in a quiet, calm environment for a while and decompress, or whether they are struggling and need a listening ear. We are a resource for attendees who might have questions about mental health concerns, or who are hoping to get connected with mental health services and aren't sure where to start.
"Quiet rooms" at conventions are typically unstaffed or minimally staffed, which means the ambience of the room isn't regulated. AFK Rooms are fully staffed by volunteers and licensed clinicians who are trained to provide effective, non-therapeutic support, alongside external mental health resources. We adhere to rigorous standards developed over nearly a decade of working with gaming communities and mental health professionals so that we can maintain a calm ambience in a centralized space.
The AFK Room always has at least one mental health professional volunteering in the room while open. Additionally, all the volunteers in all our AFK Rooms room go through the same, unified Take This training prior to volunteering in the room. As much as we wish we could be for everyone who needs us at all hours, if we don't have available volunteer mental health clinicians who have completed our training, we cannot keep the room open.
Why don't you have bean bags/yoga mats in the AFK Room?
We did once, and there's a bit of a story: aside from the sky-high cost of storing a ton of beanbags, loading them onto a huge truck, transporting them to a convention, having them moved from the loading dock to the AFK Room in a huge convention center, and then doing all that in reverse, there are other complications we didn't expect.
A very kind beanbag company (who makes products we still enjoy) once generously paid the cost for all the transportation and loading with their inventory. We were pumped! However, by day two of the convention the AFK Room became known as the attendee nap room. It got packed to the brim with people sleeping for hours at a time. It was so packed, people had to literally jump over other people to move through the room to get to the door. It was so full of people that when others who were already overloaded from crowds walked into the room, their anxiety skyrocketed. While it was nice to be able to give people a beanbag lounge, it got so crowded with people who just wanted a nap that we weren't able to offer a supportive space to those overwhelmed by the convention.
Are the clinicians in the room providing therapy?
No — neither the clinicians nor non-clinical volunteers provide any form of therapy, mental health treatment, or clinical opinions in AFK Rooms.
What are the clinicians doing if they're not providing therapy?
Volunteer mental health professionals are available to answer general mental health questions and provide education relating to mental health. They can answer questions about common problems and help demystify the process of seeking and participating in therapy. Non-clinical volunteers can provide an ear to bend and are available for attendees who are struggling and want to chat. Both clinical and non-clinical volunteers can provide empathic listening in the event that an attendee is experiencing short-term or situational distress, but they cannot offer any clinical advice or opinions.
What's the difference between "therapy" and "empathic listening"?
Empathically listening to someone in distress is like putting a splint on a broken bone: it doesn't heal the bone, but it does provide some support until you can see a doctor and get actual treatment. It involves offering a listening ear to someone who is struggling, responding empathically, and briefly helping them explore their outside referral options.
Therapy involves much more in-depth, personal exploration with a mental health professional who has had years of education and training and often involves deep exploration of past experiences, family history, and trauma. Therapy is a method of treatment, during which a mental health professional offers their diagnostic or clinical opinion on a person's individual case and how they can improve, while supportive listening is not intended to treat or facilitate healing.
Do you handle mental health crises?
We consult with convention staff prior to the convention to ensure protocols for responding to mental health crises are in place, and help convention staff determine when there may be a crisis unfolding, but we cannot intervene beyond education, listening, and referral to external resources, including situations where someone has indicated that they may harm themselves or others.
How can I sign up to volunteer?
Thank you for your interest! The best way to find out about volunteer opportunities is to join our Discord server, sign up for our newsletter, and follow us on social media. We frequently post announcements about our need for volunteers at upcoming events, and we're always happy to have supportive folx join our community!
What does volunteering entail?
Volunteers provide empathic listening to guests who are struggling and consult with licensed clinicians to answer general mental health questions and help guests find external mental health resources. They also uphold the quiet "library-esque ambience" of the room. All of our volunteers participate in an hour of standardized volunteer training before they can volunteer in an AFK Room (or even at one of our booths), and returning volunteers are required to re-train at least once per year.
I'd like to run my own AFK Room at a convention. How can I get set up?
We have AFK options that can support a variety of events. We can provide AFK services for everything from a 2-hour meeting to a 12-day convention. We can work with event coordinators to develop a plan that will meet each con's specific needs. The first step is to reach out to us at info@takethis.org so we can find a structure that works for you!
How much does it cost to run an AFK Room?
We can work with event coordinators to provide AFK support that fits your budget. We're happy to have a conversation with you about options if you reach out to us at info@takethis.org.
Can I call my convention's quiet room an "AFK Room"?
Take This has taken great pains to develop the standards, structure, and volunteer training process for AFK Rooms. We ask that conventions use the name only if working directly with Take This, and with our express permission.
We always appreciate individuals and companies who want to support the mission of Take This. Our various operations, including the event-based AFK Room, require ongoing financial support to keep moving forward. If you and/or your company would like to support us, please email sponsorships@takethis.org.
---
The AFK Room Program currently operates in a number of conventions around the United States, including all US PAX events. For more information, please see our overview handout or contact us.
---
Take This, Inc. seeks to educate, inform, and advocate about mental health issues in our community. We do not provide mental health services or professional consultations. For information on when to seek dedicated clinical help and how to find it, please visit our "When to Seek Help" page. If you or someone you know is in crisis, in need of immediate intervention, and based in the US, please visit the National Suicide Prevention Lifeline or call 1-800-273-8255. Information for other countries/areas can be found here.