The AFK Room Program is more than just a quiet, mental health space. It is a full, comprehensive convention wellness program that operates for convention attendees and convention staff. It's comprised of three essential factors:

• Programmatic evaluation
• Staff wellness and distress intervention training
• The AFK Room
The Take This AFK room is a staffed, relaxed space for anyone who feels overwhelmed and needs a place to regain their calm. It is run by local volunteers and clinicians, trained by Take This, to moderate and maintain the atmosphere. We strive to offer education, resources, and a listening ear to convention attendees without verging into offering therapeutic treatment.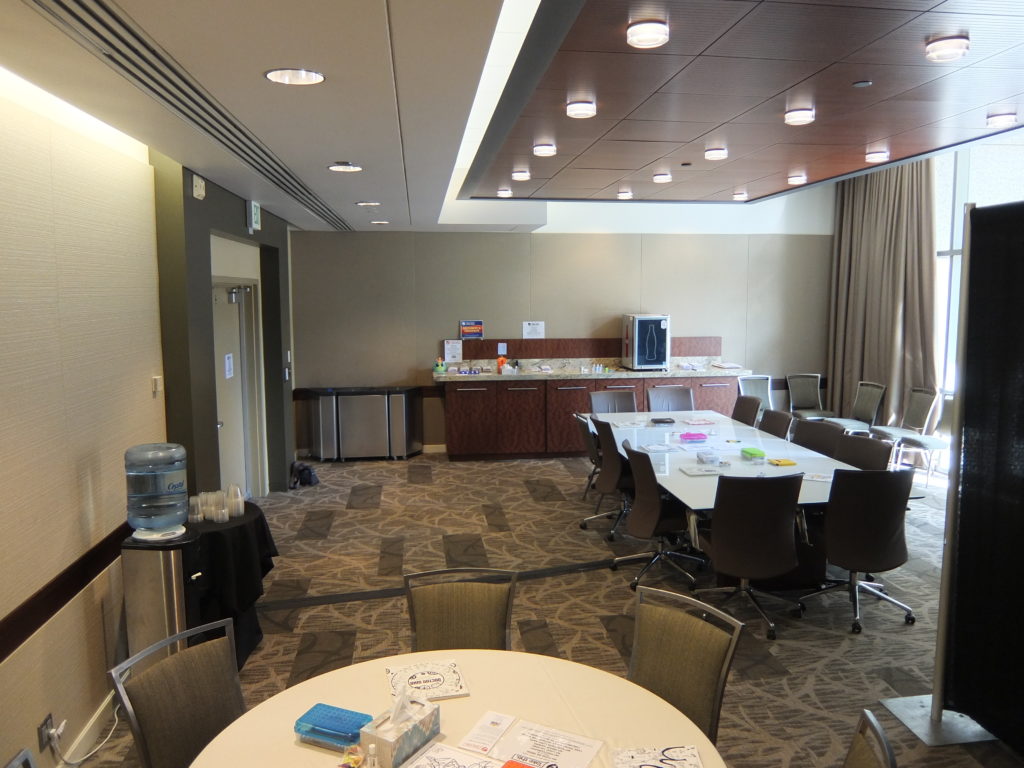 ---
Take This also offers AFKOnline! It is a moderated Discord server that has been specifically designed to offer non-therapeutic emotional support to attendees. It will be active and staffed with volunteers throughout the course of the convention. Volunteers will offer empathic support, answer questions relating to mental health information, and provide resources. The server will also have moderators to maintain a calm space for folks to relax and discuss the convention. As always, Take This volunteers and clinicians do NOT provide mental health services or professional consultations at any time in our discord or during AFKOnline.
Note: AFKOnline is not currently available in our Discord server. It is offered in conjunction with certain online events.
It means we're old. AFK is an internet acronym meaning "Away From Keyboard" that dates back at least two decades. It represents the idea that the AFK Room™ is a means of getting away from the hustle and stimulation of crowded convention spaces. As one of our founders likes to say, "The AFK Room™ is the most boring room at the show, by design!"
We always appreciate individuals and companies who want to support the mission of Take This. Our various operations, including the event-based AFK Room™ , require ongoing financial support to keep moving forward. If you and/or your company would like to support us, please email sponsorships@takethis.org.
The AFK Room™ always has at least one mental health professional volunteering in the room while open. Additionally, all the volunteers in all our AFK Rooms™ room go through the same, unified Take This training prior to volunteering in the room. As much as we wish we could be for everyone who needs us at all hours, if we don't have available volunteer mental health clinicians who have completed our training, we cannot keep the room open.
With our first AFK Room™ debuting in April 2014, we were the first organization in the world to offer clinician-staffed mental health spaces at conventions. Take This has an established, proprietary training program that trains our volunteers to moderate and maintain the atmosphere of the AFK Rooms™, as well as offer education, resources, and a listening ear to convention attendees without verging into offering therapeutic treatment.
Allocating a quiet space at conventions is a wonderful start, though it carries certain risks. If they are unstaffed (or if they are staffed by people who are untrained at how to maintain the balanced decorum of such a space), the quiet rooms run the risk of being used by attendees in ways that negate the rooms' original purpose and paradoxically creating more stress on already vulnerable attendees.
---
The AFK Room Program currently operates in a number of conventions around the United States, including all US PAX events. For more information, please see our overview handout or contact us.
---
Take This, Inc. seeks to educate, inform, and advocate about mental health issues in our community. We do not provide mental health services or professional consultations. For information on when to seek dedicated clinical help and how to find it, please visit our "When to Seek Help" page. If you or someone you know is in crisis, in need of immediate intervention, and based in the US, please visit the National Suicide Prevention Lifeline or call 1-800-273-8255. Information for other countries/areas can be found here.