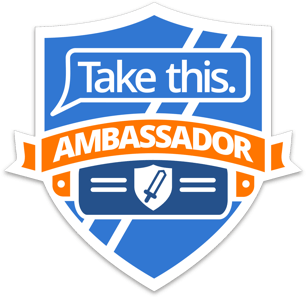 Meet the Ambassadors
Take This Streaming Ambassadors are official representatives for Take This in the streaming community. They actively fight stigma against mental health challenges and promote mental health inclusivity in their streams. Learn about the Ambassador Program.
Found 29 Results
An excitable teacher and dungeon master, MagesAndMentors uses his stream to make an impact and catalyze change around games, education, and mental health.

A maven of Magic the Gathering and mental health advocate.

Mental health talk show host bridging the gap between professionals and those looking to learn about mental health. Interviews with professionals, open discussions about everything and anything, because everything and anything deals with mental health.

Twitch streamer, focusing on a fair variety of different games: Minecraft, racing games like iRacing or Assetto Corsa, platformers (the Shantae series is his favorite), A Link to the Past Randomizer runs, and various indie games.

My name is Speedy, and I play games… less than quickly.

Variety streamer. Xbox MVP. Xbox Ambassador.

Twitch Streamer and Partnered YouTuber that focuses on family-friendly games such as the Pokemon and Animal Crossing franchises.

Professor of games user research and game design. I break games.

Queer TTRPG Creator, Variety Streamer

A mental health advocate in the fighting game scene.

RPG streamer, LGBT advocate, wholesome cat lady

An independent game developer and wholesome variety streamer. Kindness and creativity are at the core of his streams and community.