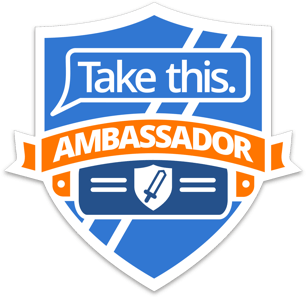 Meet the Ambassadors
Take This Streaming Ambassadors are official representatives for Take This in the streaming community. They actively fight stigma against mental health challenges and promote mental health inclusivity in their streams. Learn about the Ambassador Program.
Found 25 Results
A mental health & LGBTQIA+ advocate.

I'm a Latina Queer Scientist who studies Gene editing and programs Robots for work.

Founder and Director of I Need Diverse Games, Rivals of Waterdeep Cast Member on twitch.tv/dnd, a Twitch partner and RPG developer/writer/consultant

Actress & Content Creator, Voice of Kate Marsh

Mental Health & LGBT+ Advocate! Support Streams, ASMR Bedtime Stories, Chill Ukulele Music, Singing, Harp, Games!

Medical Doctor. Streamer. President of Queer Women of Esports. Host of NWHL Open Ice.

Gaming and display miniatures painter! Often intended for use with D&D or tabletop games in general.

Twitch partner building a chill, inclusive & safe community

Variety streamer, cosplayer/model and mother who uses her streams as a way to promote mental health awareness, body positivity and loving your individuality.

Partnered creative and gaming variety caster, seamstress, jill of all trades

Variety streamer and founder of Xbox Playdates Canada

An excitable teacher and dungeon master, MagesAndMentors uses his stream to make an impact and catalyze change around games, education, and mental health.