In the 10 years since Take This' founding, the crisis in mental health has only grown. We could never have anticipated the many stressors that contribute to this, but even in 2012 it was clear: all of us are touched in some way by mental disorder, and it is our responsibility to become educated and to respond.

The vitality and passion of the gaming community has provided a tremendous environment to promote better understanding of mental health issues. Take This has done this through its many excellent programs and through cutting edge research into how mental health problems affect the cultures of gaming.

I'm deeply grateful for how Take This has blossomed, for the support it has received from gamers and companies, and for the difference it has made in so many lives. A decade is a fabulous start, but there is so much left to be done. I'm confident that Take This will be a strong and innovative force for many years to come.

Dr. Mark Kline (Founding Clinical Director)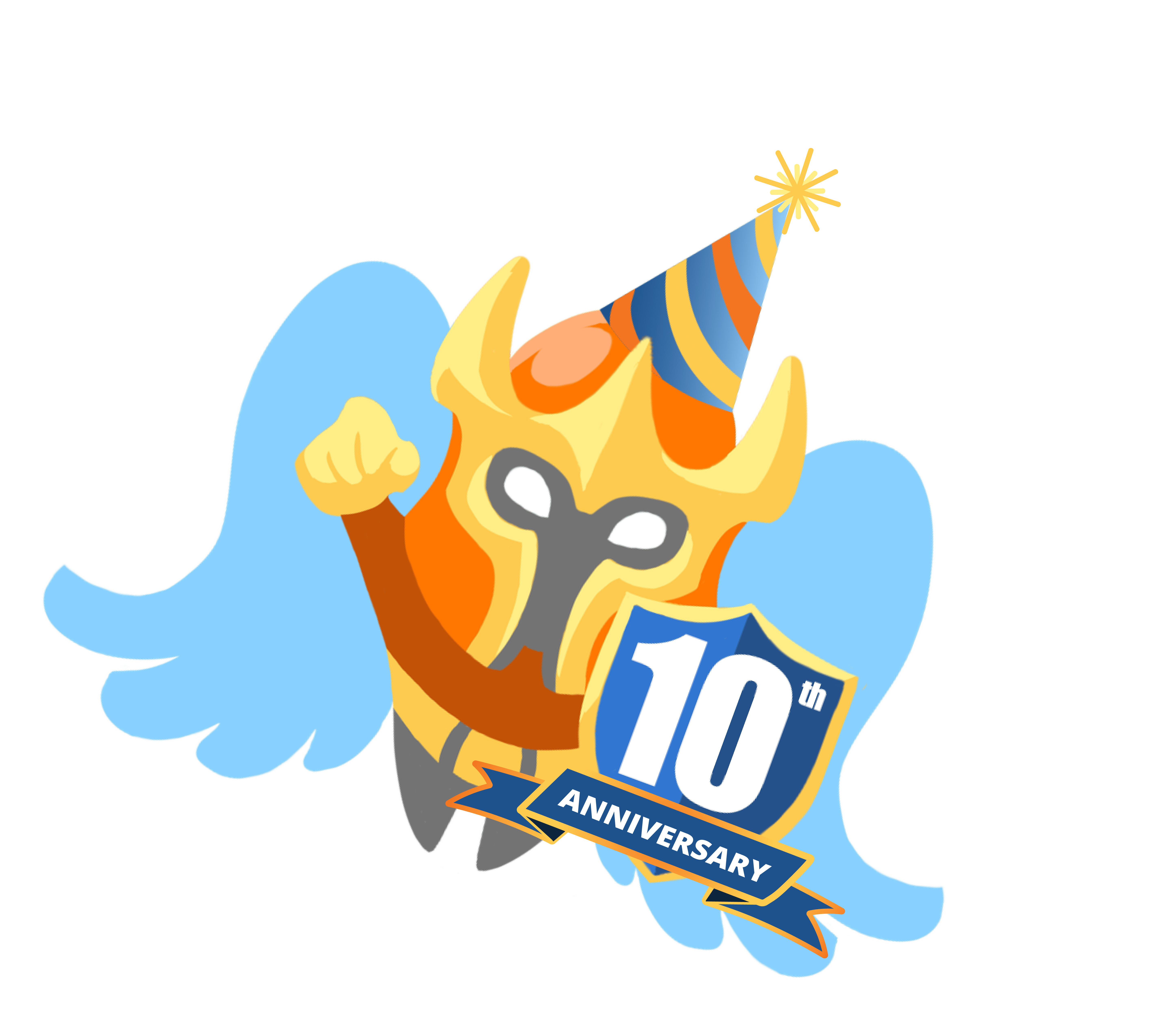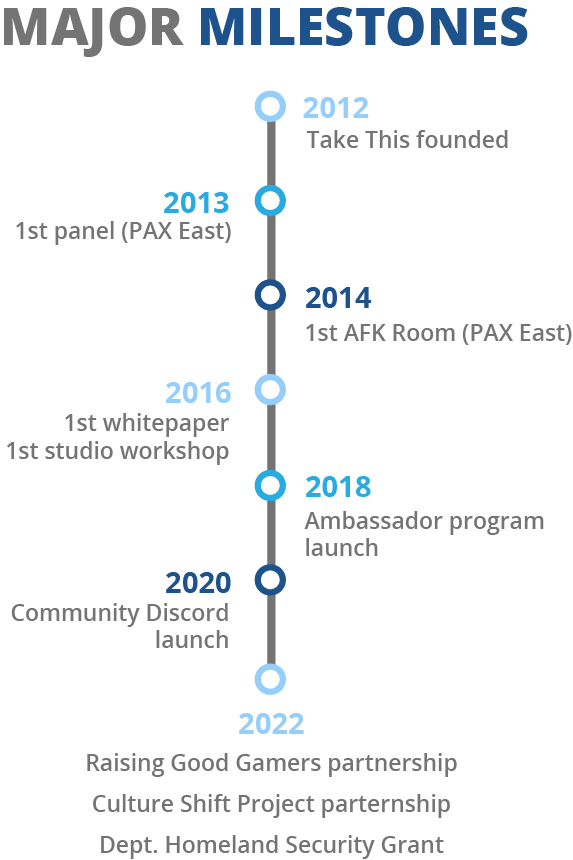 Being able to be a Take This Ambassador has lifted me, both personally and in my mental health advocacy. Collaborating with others is one of the best advocacy experiences I have had so far. Connecting with others who are deeply passionate about mental health, gaming, well being, and about people, is beyond amazing.

Blushing Crafter (Take This Streaming Ambassador)
About Take This
Take This is a mental health advocacy organization with a focus on the game industry and community. We provide resources, training, and support individuals and companies that help the gaming community improve its mental well-being and resilience. The organization addresses the underlying conditions that can create and perpetuate mental health challenges: stigma, harmful studio culture, harassment and toxicity, lack of diversity and accessibility, and problematic game and community design.
Our History
Take This was founded as a Tumblr blog in response to the suicide of game journalist Matt Hughes, to build community and awareness about mental health and mental illness in the video game community. As it has grown, the organization has built on its early presence at PAX Conventions with panels and its groundbreaking AFK Room Program to become the first and premier mental health and games nonprofit organization. Some highlights from the first ten years include:
Take This was the first to crystallize the effects of working conditions and "crunch culture" in a way that demonstrated not only how they influence game industry workers, but also the games they make in a pair of white papers published in 2016 and 2019.

Helped shift office culture and create welcoming communities through its workshop and training program with over 40 gaming studios and companies including big names like EA, Hyper Hippo, Iron Galaxy, Wizards of the Coast, Facebook, and more.

Ongoing support and up-to-date resources for the industry in response to international concerns that can be overwhelming to businesses and individuals.

The non-profit experienced an accelerated demand for these services due to increased awareness of the relationship between work and mental health driven by COVID-19. Take This advised multiple companies on how to best care for their teams throughout the pandemic, including recommendations on how to manage the shift to working from home and more recently, back in the office.
Take This has also advised the industry on responses for #metoo, trans rights, BLM, online extremism, women's reproductive rights and more.


Launched AFK Room program in 2014 to provide a place for convention attendees to relax and recharge. AFK Rooms have serviced over 13,000 individuals across 42 rooms at in-person and online events.

Provides free mental health resources, workshops, and other expert content for the gaming community on their website.
I honestly don't know what direction my life would have taken if I hadn't responded to that volunteer email. My work with Take This has given me a sense of fulfillment I never thought I would achieve, and has made me become a better educator and all around person. I look forward to what the next ten years have in store!

Liz Favtastic (Take This Moderator)
The Future
As we grow and mature as an organization, Take This is committed to continuing to do what it does best, only better: produce the highest quality, most ethical and informed free mental health resources on relevant topics in the most accessible ways. We will expand our work with key partners, continue to lead the game industry towards better practices – in studios, in games, and in communities – and add substantively to research that helps us make games safer, more humane, and more rewarding. We will diversify our team, expand our capacity, and explore new ways of reaching people who love games with relevant tools and resources.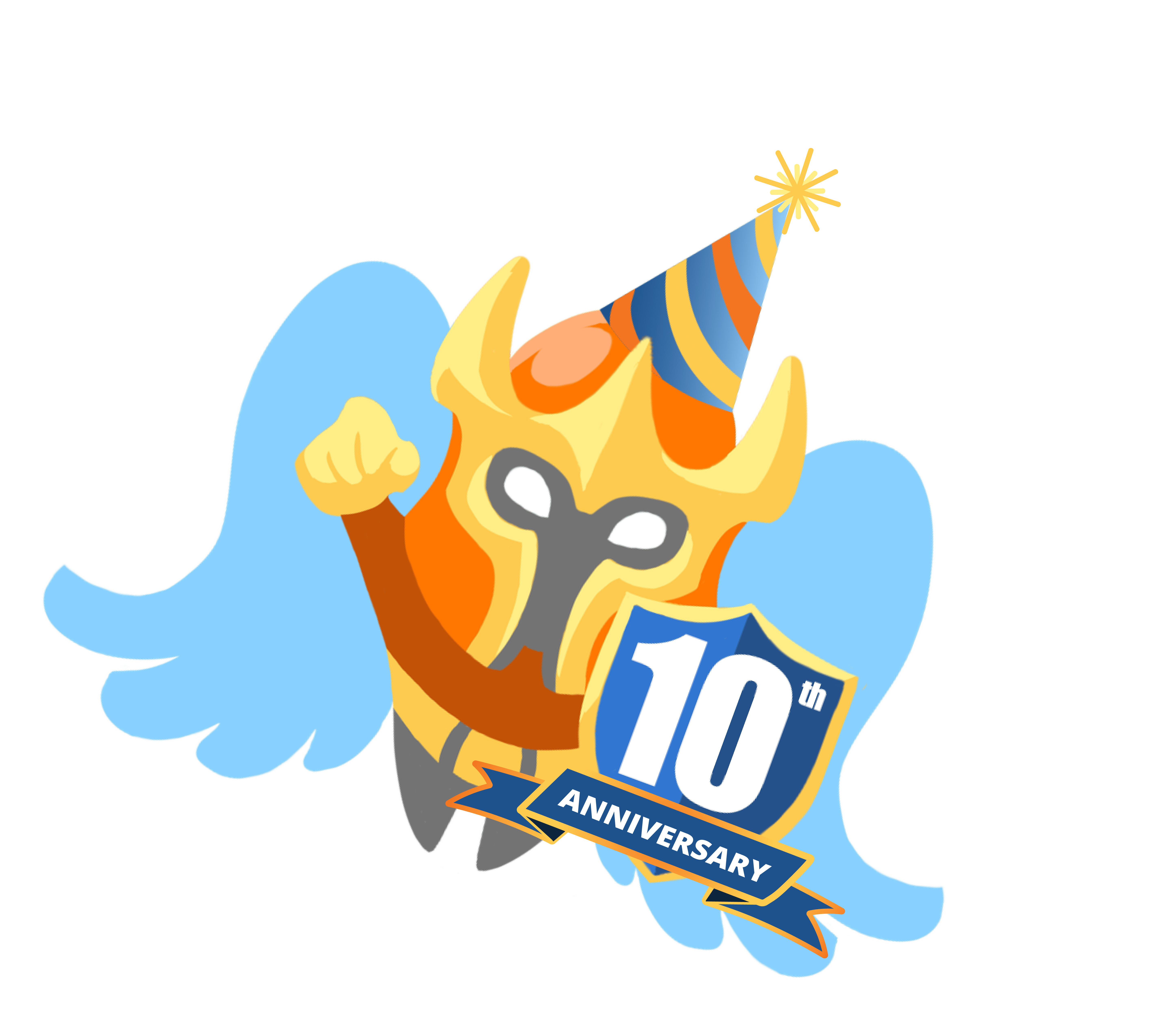 Our Community
At Take This, we are dedicated to our community and we would not have achieved this major milestone without you. Literally! Over the years, we've had close to 1000 volunteers at events and our Discord is home to over 1,200 lovely humans. We humbly offer this Wall of Community Awesome as a way of thanking and celebrating our community. Here's to another 10 amazing years.
Have pictures or stories about Take This? Please share on Twitter or Instagram with @TakeThisOrg #TakeThisTurns10