Industry Consulting & Workshops
We provide a culturally-informed approach to employee wellness & success for the game industry addressing harassment & gender-based harm, retention, burnout prevention, resilience, and mental health literacy. We also advise on policies and procedures to maximize the mental health of your game space, provide expert perspectives and information on mental health topics, a primer on video game effects, and offer technical consultation on game design, mental health representation, and content/content warnings in your games.
If you're interested in any of the workshops below, or want more information, please contact us.
We are pleased to offer a limited number of 1/2 hour consultations each month (on a first-come, first-served basis) for no cost to answer questions and provide support. If you'd like to have a full hour to consult with our clinical experts, the rate is $500 per hour.
Did you know that we can conduct mental health reads of your game? We can also help you develop effective and appropriate content warnings. One of our clinical and game design experts, Dr. Kelli Dunlap, even gave a talk about this at GDC in 2021.
Here's a great example of a mental health advisory we developed for Double Fine's Psychonauts 2, which was widely cited for its positive impact.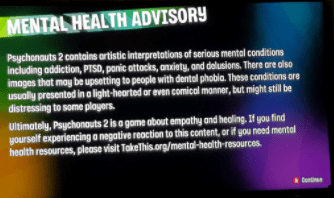 Many organizations around the globe are taking proactive measures to protect their employees during the COVID-19 pandemic. As recommended by the Center for Disease Control, many companies are implementing social distancing best practices and allowing, or even mandating, that employees work from home. As a mental health non-profit that regularly utilizes remote operations, we know personally and professionally the challenges and benefits of telework. Take This has created a workshop specifically for organizations dedicated to supporting the mental wellness of employees during the COVID-19 pandemic. This workshop is designed to offer practical tips for maintaining mental wellness and productivity while working from home, as well as practical tips for managing anxiety during this crisis while still staying safe.
In addition to traditional recommendations around mental health and telework, this workshop also includes specific recommendations for managing pandemic-related anxiety both on and off the clock.
Fee is $1K/hour-long workshop. We also offer a sliding scale fee schedule; to best serve your needs, please visit our questionnaire and we will be in touch!
Whether you're a streamer, community manager, or leading an MMO guild, managing online communities present certain challenges. One common challenge is being approached for help with your community members' urgent emotional needs. While it's amazing that you've managed to build a community with enough trust for them to approach you, this can be a confusing and anxiety-provoking situation for many. After all, you're probably not a therapist, so what do you do? Participants in this workshop will gain a better understanding of non-clinical, peer skills that may be used to support the people in your community while referring them to the appropriate professional resources. Heavy focus will be placed on role clarity and boundary setting, quick rapport building, and greater knowledge of outside resources.
Online Harassment: Communities & Creators
This workshop is designed to be an "Online Harassment 101" course. In this workshop, we will overview the scope of harassment in gaming communities with a focus on the harassment of game creators through social media. This will include a discussion of its prevalence, root causes, and mental health effects as well as support strategies and policy suggestions. This is designed to be a one-hour workshop. An additional two hour solutions-focused round table about how to integrate effective policy and support structures within your specific organization can be added to this workshop package.
Take This, in partnership with the Games and Online Harassment Hotline, has developed a comprehensive approach to the challenges of persistent, ubiquitous harassment and abuse in the games industry. Our non-judgemental approach to these topics is approachable and constructive across a range of experiences and perspectives.
This program will walk you through the challenging and sometimes confusing process of understanding and intervening in toxic, abusive, and harmful employee interactions, and building the tools necessary to significantly reduce harm in the future. This is a comprehensive, company-wide approach to culture change, and completing all of the steps requires a time commitment of twelve to eighteen months, depending on studio size.
Despite the fact that approximately 1-in-2 people in the US will meet the full criteria for a mental health diagnosis in their lifetime, how many of us understand common mental health diagnoses and how they affect us, our work, and those around us? Beyond that, what are some of the unique stressors (e.g., crunch culture and development cycles) which affect the mental wellness of those who work in the game industry? What can we do about all this? Participants in this workshop will gain a greater understanding of some of the basics regarding mental health challenges and common diagnoses, how they manifest in the game industry, as well as how we more effectively support those around us who struggle with mental health challenges and build more sustainable careers and a more sustainable game industry.
Concern about the potential impact of digital games on its players is as old as video games themselves. Once digital games expanded beyond the university labs where they were first developed, the attention they garnered from researchers and the press began to reflect a fear of this emerging media. Despite video games' 40+ year history, the world of video games is seen as a treacherous place by many. This 'moral panic' surrounding video games can create incredible amounts of stress on employees in the industry and lead to confrontation between the press, public, and gaming studios. The aim of this workshop is to provide participants with a better understanding of the influence that digital games can have on players to better combat this panic with scientific rigor.
This includes discussions of video games and aggression, violent crime, addiction, learning, social outcomes, and more. This training is suitable for individuals at any level and across departments. No prior knowledge of psychology or media studies is required. This training is particularly well-suited for HR professionals who want to understand the societal context that may be creating pressure and stress on employees within the gaming industry, and marketing personnel, community moderators, and managers interfacing with the press and public. This training is available in a half, full, or two-day seminar.
Digital games are often discussed as tools for learning and change, but how can industry professionals optimize the conditions for change? Drawing on work from psychology, sociology, and media studies, this course is specifically designed for game makers to gain a better understanding of how representation and diversity are critical for optimizing their games for impact and engagement. Participants in this workshop will explore how diversity and representation (or a lack thereof) through character creation, narratives, and mechanics influence player experience. Taking an approach grounded in empirical research, topics will include diversity and representation, game engagement and immersion, and the importance of character customization, among others.
This workshop is design specific, hour long intensive on the needs and challenges of creating a space that fosters diversity, inclusion and belonging. This workshop will highlight several empirically grounded approaches to understanding diversity in design as it relates to mental health, including representation in games, designing for and with vulnerable populations, and ethical considerations. Suggestions for how to implement this information in day-to-day design work will also be discussed.