Game Consultations
Take This provides consulting to game companies on a variety of topics, including HR policy, game content, game content warnings, and community management policy and procedure. Our engagements are flexible, and can help you address challenging topics both in the workplace and in your games in constructive ways.
One Time Consultation
We are pleased to offer a limited number of 1/2 hour consultations each month (on a first-come, first-served basis) for no cost to answer questions and provide support. If you'd like to have a full hour to consult with our clinical experts, the rate is $500 per hour.
Game Content & Content Warning Assessments
Did you know that we can conduct mental health reads of your game? We can also help you develop effective and appropriate content warnings. One of our clinical and game design experts, Dr. Kelli Dunlap, even gave a talk about this at GDC in 2021.
Crisis Support
Take This is available to support your studio during crises and in response to challenging events through troubleshooting, providing listening sessions and other open spaces for reflection and processing, and by identifying appropriate responses to support employees, players, and other members of your community.
Policy Consultation
Do you not know where to start? Are you aware that you've got some challenges, but need help articulating them to stakeholders? We can work with you to identify the next steps you need to take, and help you build good policy and practice to support the mental wellbeing of everyone on your team.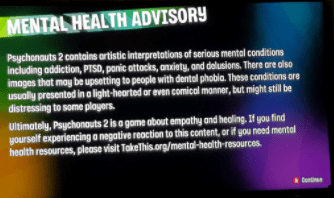 For More Information
Please Contact Us