We're happy to announce a new partnership with Crisis Text Line!
It's a free, 24/7, confidential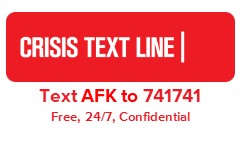 text-messaging support line for people in crisis. You can text our keyword AFK to 741741 (US) and be connected with a live, trained Crisis Counselor. They cover a whole range of crises, from anxiety and depression, to eating disorders and bullying to suicide and self harm. They reach 87% of texters in under 2 minutes and 94% in under 5 minutes.
Crisis Counselors  "are dedicated, trained, supervised volunteers from around the country. After a rigorous multi-stage application process, background check, and training program, each commits to 200 total hours of volunteering. Supervisors (staff who are full time mental health professionals) oversee the Crisis Counselors."
Information for other countries/areas can be found here.