PAX East is coming up soon and we're getting ready for another awesome show! We'll be bringing the AFK Room, our trained team of Psychomancers, the Hope Booth, and 5 panels. Stop by and say hi!
For more details about the AFK Room and Hope Booth during the show, keep an eye on our Twitter and Facebook pages:
AFK Room (Level 2 East) Hours:
Thursday February 27th: 11am to 7pm
Friday February 28th: 11am to 7pm
Saturday February 29th: 11am to 7pm
Sunday March 1st: 11am to 5pm
Hope Booth (Level 1 East – Diversity Lounge) Hours:
Thursday February 27th: 10am to 6pm
Friday February 28th: 10am to 6pm
Saturday February 29th: 10am to 6pm
Sunday March 1st: 10am to 6pm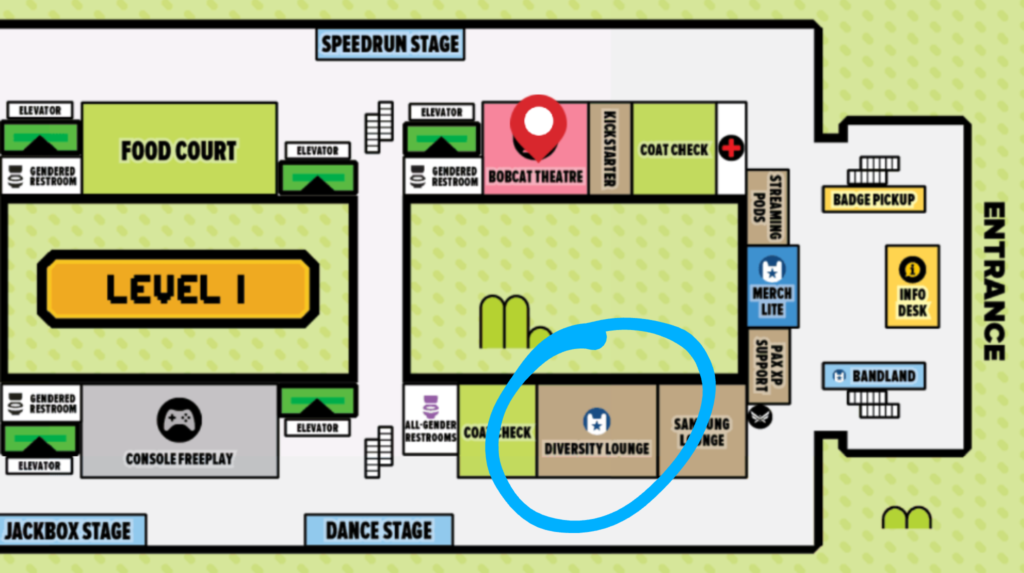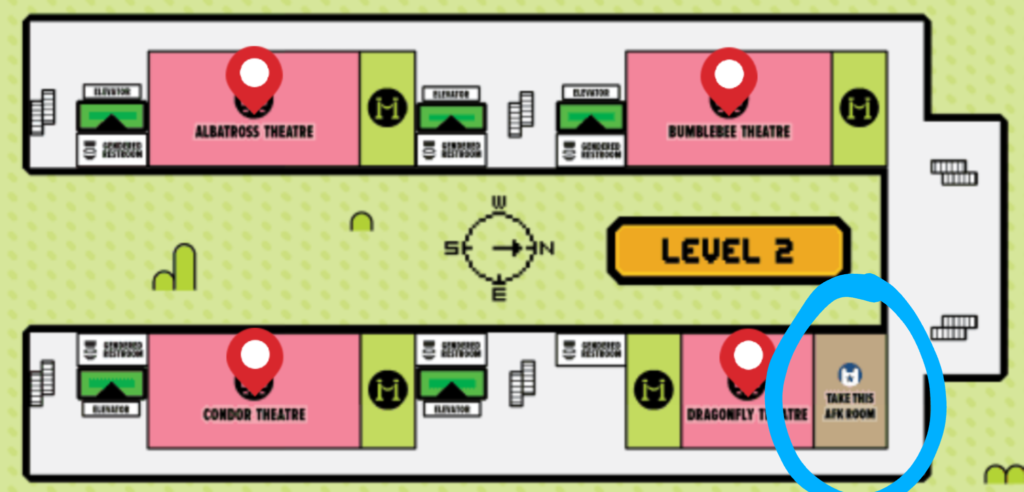 Looking to check out Take This on some awesome PAX East panels? Here's our schedule!
Build Your Guild: Make and Support Friends in Gaming – Thursday, February 27th – 5:30 pm – Arachnid Theater
Have you ever made a new friend while playing a game, and wondered why some games have more supportive and uplifting communities than others? We believe that friends have an important role to play in helping one another through difficult times and that games with cultures of support create those strong friendships. Join us in a reflection on a special partnership with Guild Wars 2 for Friend/Ships Month that encouraged players to "Seize the Awkward" by reaching out to a friend in need and empower players to start conversations about mental health. Panelists from Guild Wars 2, Take This, and the American Foundation for Suicide Prevention will share how players can get to know each other, build friendships, and support each other in-game.
Rebecca Mir [Director, Digital Product Management, Ad Council], Dr. Christine Moutier [Chief Medical Officer, American Foundation for Suicide Prevention], Doctor B [Clinical Director, Take This], Rubi Bayer [Content Marketing Manager, NCSOFT], Rook aka birdofchess [Variety MMO broadcaster, Streamer]
Geek Jeopardy – Test Your Knowledge! – Thursday, February 27th – 7:00 pm – Bumblebee Theater
Being a geek is super fun and one amazing way to horde lots of random facts about EVERYTHING. Our esteemed panelists are walking geek encyclopedias that will test your knowledgeable boundaries. This panel is going to test the knowledge of the audience within the realm of Video Games, Anime, Board Games, and more! Prizes will be had for the winning answers! Think you know your stuff? Come and play to find out!
Dr. Raffael Boccamazzo [Clinical Director, Take This], Dr. Anthony Bean [Executive Director/Clinical Psychologist, The Telos Project], Dr. Jared Kilmer [Psychologist, Game To Grow], Dr. Emory Daniel [Assistant Professor, Appalachian State], Dr. Shane Tilton [Assistant Professor, Ohio Northern University], Dr. Elizabeth Kilmer [Doctor, VA]
Beyond Hitpoints: Healthy Behaviors In and Around Games – Friday, February 28th – 12:00pm – Arachnid Theater
Research has found that players often 'unintentionally' learn a range of things while playing video games, including skills (multitasking, leadership) and facts (information about historical events and figures). However, the types of health behaviors players can learn is a relatively unexplored topic. Join a panel of medical practitioners, mental health researchers, and mental health advocates as they discuss the good, bad, and ugly of health behaviors in games through some of your favorite characters. We're addressing the REAL questions, like how long is Death Stranding's Sam Bridges' back going to hold up?
GamerDoc [Physician, CEO & Founder, GamerDoc], Rachel Kowert, PhD [Psychologist and Research Director, TakeThis], Cait McGee, DPT [Physical Therapist and Director of Esports Medicine and Performance, 1HP Gaming], Mxiety [Mental Health Advocate, Mxiety]
Gatekeeping Makes You Look Like an A**Hole – Friday, February 28th – 3:00 pm – Arachnid Theater
Ever been so interested and enjoyed an activity that you get a tingling sensation when you think about it? Ever try to express it to fellow geeks just to have "your knowledge checked?" We all have had this occur to us at one point in time, but no one talks about how to break out of the Gatekeeping cycle and what we can do to diminish it within the community. This panel is exactly for that! Panelists will talk about how they have been gatekeeped at a point in their lives, how they got out of it, and give tools to stop it from happening to us all for future reference in the geek community. Ever been Gatekeeped? This talk is for you!
Dr. Anthony Bean [Executive Director/Clinical Psychologist, The Telos Project], Dr. Stephanie Orme [Lecturer, Emmanuel College], Dr. Rachel Kowert [Research Psychologist, Take This], Dr. Shane Tilton [Assistant Professor, Ohio Northern University], Dr. Elizabeth Kilmer [Doctor, VA], Mat Bergendahl [Director of Suicide Prevention, Stack Up]
We got your back: How gaming communities improve health – Sunday, March 1st – 12:30 pm – Cuttlefish Theater
One of the best things about gaming is belonging to a community of gamers. When you game as part of a community, you build friendships by sharing fun (well, OK; sometimes frustration) and relieving stress together. The social interactions in gaming communities can be great—players can learn and share resources through casual chat, or develop deep and lasting bonds. Just feeling that you belong to a community is a protective factor against suicide. Some communities go a step further—they develop programs to specifically improve health and educate around health issues. In this panel we'll talk about the research and various efforts going on in this space and give suggestions for how other gaming communities can help their members' health.
Michelle Colder Carras [Founder, Gaming and Wellness Association (GameWell)], Mat Bergendahl [Director of Suicide Prevention (StOP), Stack Up], Kelli Dunlap [Ambassador Program Manager, Take This], Rachel Kowert [Research Director, Take This], Raffael Boccamazzo [Clinical Director, Take This]