*Update* Thank you to all who watched, participated, streamed, and donated during our Week of Streaming! We raised over $3500! These funds will help us continue to respond to the current needs of our community such as ongoing crisis response and pivoting to new online tools. Thank you everyone!
And in case you missed it, you can watch the D&D game Coppers! along with all the content from the Mental Health Games Celebration 2020 on our YouTube channel.
---
We're capping off Mental Health Month 2020 with a Week of Streaming! Join us and our friends in building awareness about mental health. We'll be playing games (both tabletop and video), talking about how mental health is represented in games, and hearing from all sorts of creators and designers. It's going to be the most positive, thoughtful place to be online during the end of May!
Monday May 25th
A DND Adventure! 5PM PT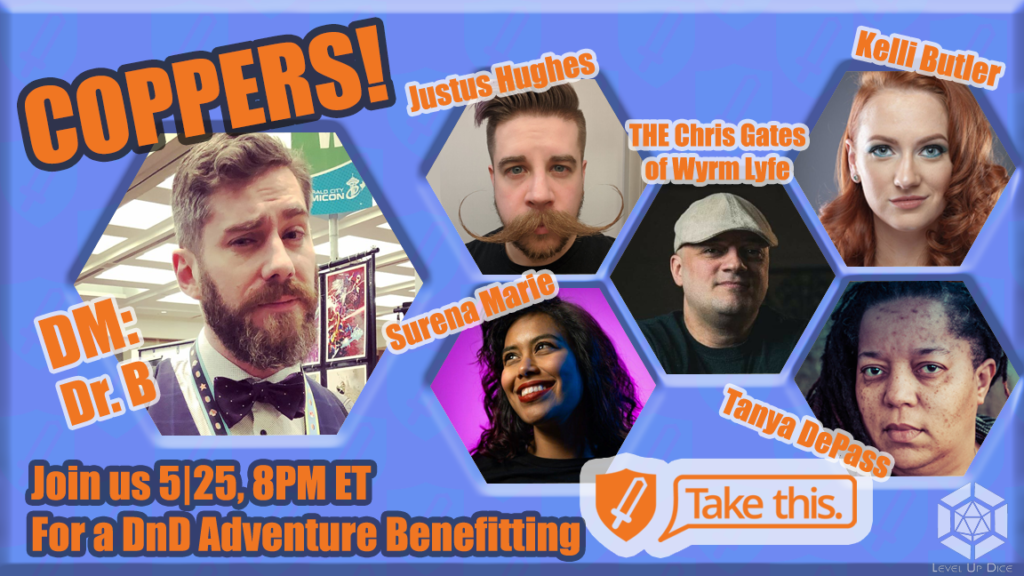 To kick off Take This' Mental Health Month Streaming Week, Take This' clinical director Doctor B runs a special one-shot D&D game Coppers! – sponsored by Level Up Dice. This motley troop of constables must stop a massive guild war by recovering a stolen object, intended as a gift to seal the peace between two powerful, rival guilds. Featuring Tanya DePass, Chris Gates, Justus Hughes, Kelli the Opera Geek, and Surena Marie.
Tuesday May 26th
Mental Health in Games Celebration 3PM – 7PM PT
Take This is hosting a celebration of mental health in games – including guest appearances from developers including Sea of Solitude creator Connie Geppert and Spry Fox designer Daniel Cook and streamers such as Day9, the presentation of the Dr. Mark Kline award for mental health representation in games, and a special Let's Play of the winner, with commentary from a clinical expert.
3 pm: Mental Health in Game Design Panel, moderated by Erin Reynolds (Flying Mollusk, Nevermind Game) and featuring Cornelia Geppert (Jo-Mei Studio, Sea of Solitude), Daniel Cook (Spry Fox, Road Not Taken & TripleTown), and Tim Hickson (Hello Future Me).
4:30 pm: Presentation Ceremony for the 2020 Dr. Mark Award for Mental Health Representation in Games, hosted by Take This' Dr. Rachel Kowert, with games journalist Amanda Farough and Dr. Mark Kline himself!
5:15: A playthrough of the award-winning game with Ash Paulsen (GameXplain), with Dr. Kelli Dunlap.
Interspersed throughout, Scott Jones (Heavily Pixelated Podcast) interviews Jennifer Scheurle (ArenaNet), Day9 & Brit Weisman, Teddy Deif (Heart Machine), and Jay Justice about their mental health self care and how they stay creative and healthy during quarantine.
Wednesday May 27th
Join the Take This Ambassadors for an all day streaming extravaganza!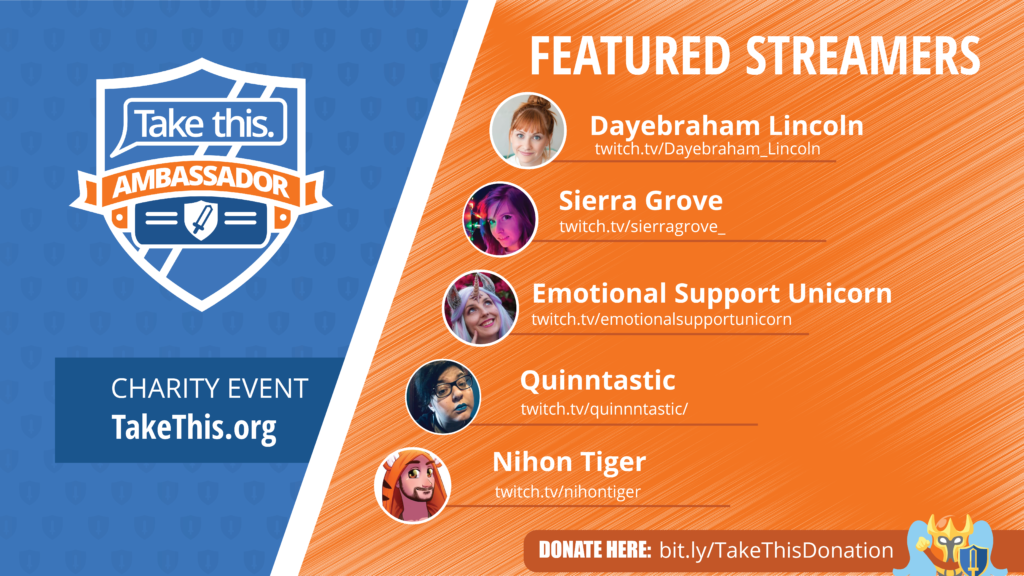 Friday May 29th
Sea of Thieves with DJ Blue PDX 2PM – 5PM PT
Take This will be co-streaming alongside DJ Blue PDX, partnered Mixer streamer, for 3 hours of sea shanties and shenanigans. We'll be sailing the Sea of Thieves and hanging out with the Mixer community.