Here at Take This, we're incredibly proud of our Streaming Ambassadors. These amazing individuals exemplify hope, kindness, and mental health positivity in the gaming community. We're stoked about the work our Ambassadors do and we think you'll love them, too. So take a moment and get to know our extraordinary Streaming Ambassadors!
Streamer in the Spotlight:
Cherryrae, Ambassador since 2019.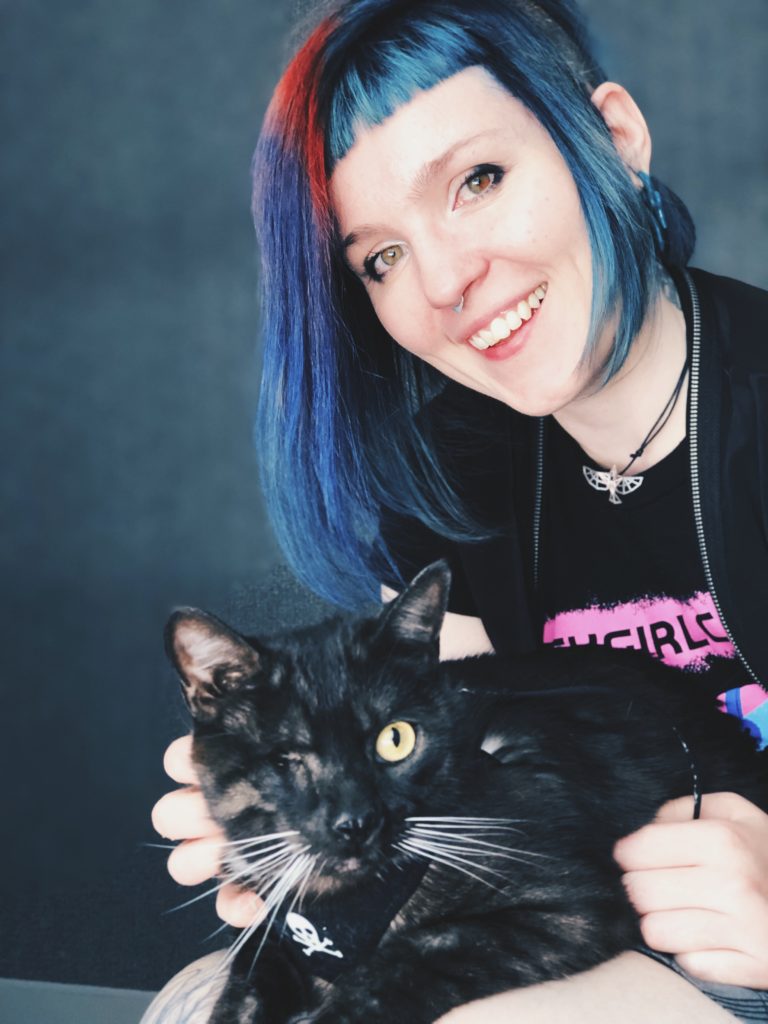 What motivated you to start streaming?
At first it was a creative outlet for video content and I used to live-tweet my game playthroughs where friends told me I'd be good at it. I wasn't sure I'd like it!! I was very anxious. It quickly became a deeper connection to my community across social media and a place where we could talk about anything and everything from accessibility in games, game development, art, to our personal experiences.
What motivated you to apply for the Take This Ambassador program?
I was friends with a couple Ambassadors from the first year of the program, as well as staff at Take This. Some I'd been on panels with at conventions! I've always looked up to the work Take This does and I think it's so vital for our industries, so I wanted to give back. I also want to uphold the destigmatization of Mental Health and contribute to building healthy, supportive communities across content creation platforms.
What do you do when you're not streaming?
I'm a game developer! I'm an Accessibility Manager at Ubisoft where I work across teams to collaborate with other designers to reduce unnecessary access barriers in all areas of our designs. I'm also a retired artist and photographer so I still dabble in my spare time. I adore everything nature and can't survive without visits to the mountains, forest, bodies of water, or some good old bird watching. I love everything science fiction, I'm a huge cinema nerd, I bake and cook, and spend a lot of time with my one eyed cat, Odin.
What is something about mental health that you wish other people knew?
Mental Health is a spectrum, just like other chronic health conditions and disabilities – it fluctuates for us all. There's ups and downs. It takes care, attention, and hard work, but we also have to give ourselves time and space to be kind to ourselves and others. It's about learning to adapt to what life hands us. All aspects of health is stigmatized in different ways, but together we bring change.
What games are you playing right now?
I've been kind of stuck in a loop of Slay the Spire and I'm upto Ascension level 6 with The Silent. Someone come rescue me!! No, really though – I've also been enjoying The Surge 2, Control, and Moving Out. I sadly haven't had time for tabletop. I miss it!
You are on a desert island. You can bring one thing to eat, one thing to listen to, and one thing to read. What do you bring?
I'm autistic and these questions stress me out!! I think it's OK to say that. I can barely create top 10 lists let alone choose one for hypothetical situations 😀 So let's go with genres: baked goods, post rock, science fiction!
Top 3 Favorite:
Movie & Soundtrack: Beasts of the Southern Wild
Ice Cream: Anything with Malt
Mood: Neon in the Rain
Why is mental health important to you?
There's power in vulnerability and sharing stories. For every person being vulnerable and open they reach countless more who are brought in from the dark. No one should have to do this life thing alone, and none of us get it right in one shot.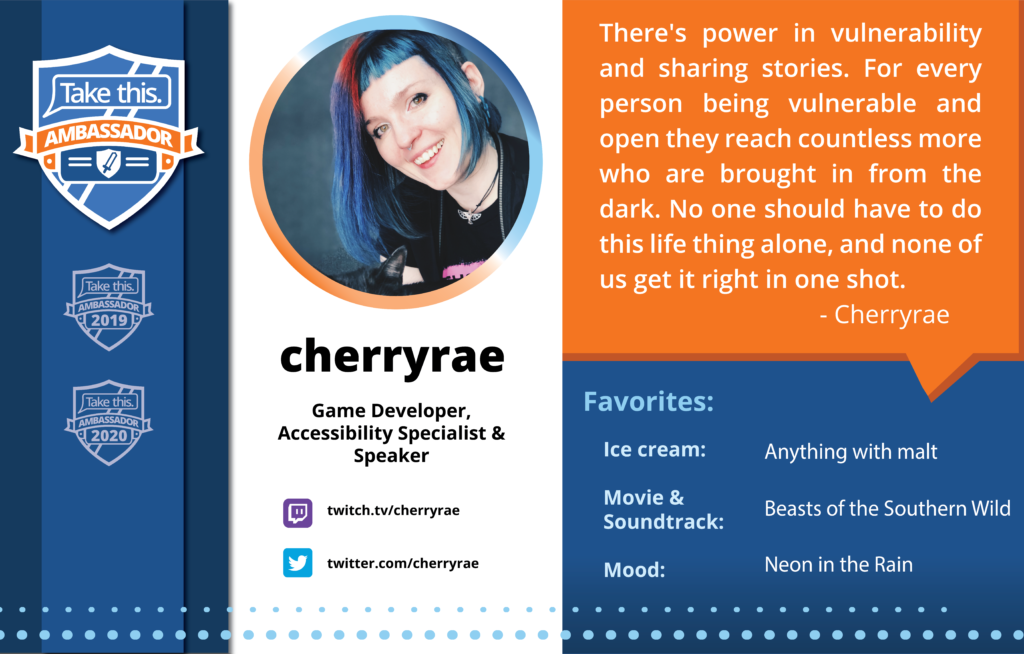 You can catch Cherryrae live at twitch.tv/cherryrae on Tuesdays, Wednesdays, and Fridays at 10:30AMM Pacific.
Click here to learn more about the Take This Streaming Ambassador Program.