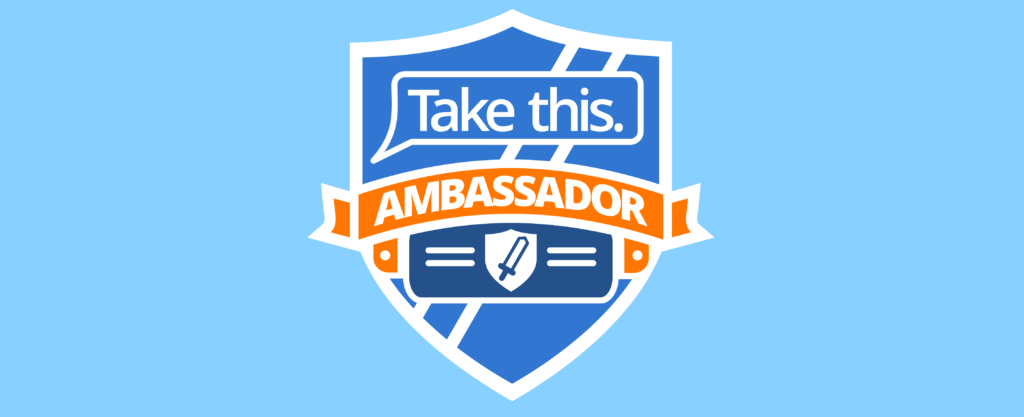 Take This Streaming Ambassadors are official representatives for Take This who stand against mental health stigma and promote mental health inclusivity in their streams. This May, we were delighted to add a new class of Ambassadors to our existing cohort.
Say hello to the Take This Spring 2020 Ambassadors!
Celesmeh is a scientist by day and a gamer by night. Her Minecraft skills are unparalleled and her stream offers a mix of gameplay, chatting, and check-ins on Mondays and Wednesdays. You can also tune in on the weekend for self-care Saturdays.
ProfessorChime is a partnered YourTuber and a pro Pokemon trainer. When not catching them all, you can catch the Professor streaming Animal Crossing several times a week.
Kiesey is the founder and host for Xbox Playdates Canada and hosts an Xbox community night every Wednesday from 9-11PM EST. Kiesey is also an Xbox MVP and streams mostly shooting, racing, and fighting games plus some Minecraft.
Professor Ashley is an assistant professor at Entertainment Arts and Engineering at the University of Utah. Her streams feature interviews with scientists (#sciencestreams) as well as gameplay thinkalouds. She can also play video games while balancing a sword on her head, so there's that too.
Giggling Geekette uses her silken dulcet tones and mad painting skills to create a streaming channel that feels like snuggling in a cozy blanket while sipping hot cocoa at a ski lodge beneath an aurora borealis. She streams Monday, Wednesdays, and Fridays.
Onyxishere is an Xbox Ambassador with a passion for streaming FPSs, mostly Destiny and Destiny 2. Onyx is also an Xbox MVP and enjoys connecting with the community and helping other players through challenging missions.
GameDoc is a physician with a passion for gaming. She uses her stream to educate and entertain and recently launched Queer Women in eSports, which provides Sponsorship and advocacy for queer women in competitive gaming. She may also secretly be an Avenger….
We're excited to have these amazing streamers and content creators joining our incredible group of Ambassadors. For more information about Take This' team of Ambassador streamers or for more information about the Ambassador program, please visit the Take This Ambassador homepage.