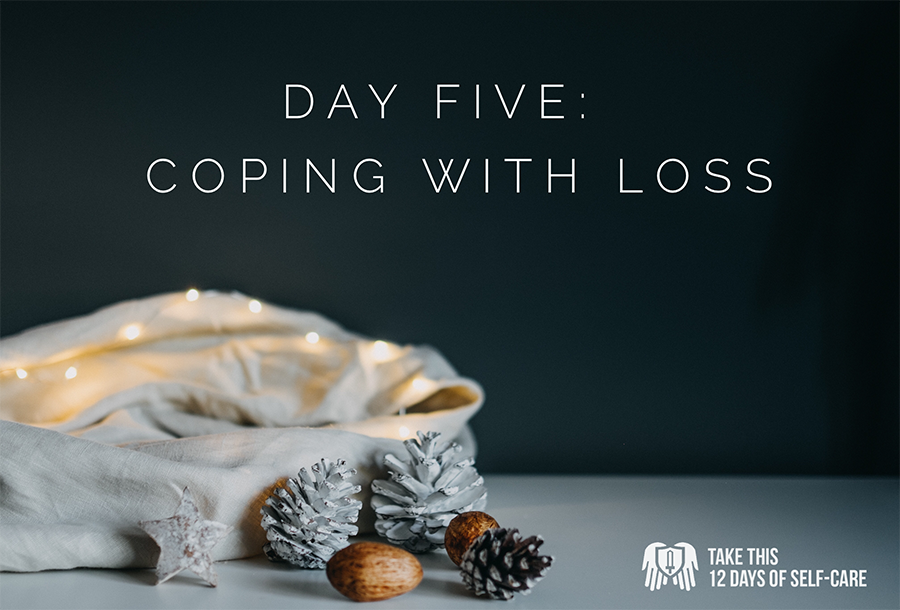 On the fifth day of our 12 Days of Self-Care series, Dr. Denisse Morales offers practical ways you can deal with loss and grief. For more helpful tips on coping with common stresses of the holiday season and the transition into the new year, check back every day.
The holidays can be a very difficult time for a lot of people, and they can be especially hard for those of us who have lost a loved one. We all grieve in our own way. Some people might find it easier to cope with grief when they are surrounded by others, while other people might prefer to be alone. Since usually (though not always) the holidays are known for being a time to celebrate with family and friends, having lost a loved one may mean one less person at the dinner table or one less voice heard. Some people may choose to skip the holidays altogether, and that's okay. If you are celebrating, that's okay too.
There are ways that we can honor those individuals we will be missing, and I want to share some of those with you. Please keep in mind that these are just ideas, and not all of them will be helpful for everybody.
Light a candle in their name.
Set up a photo in a common area where it will be visible to anyone who walks by.
Share a funny story about the person.
Take turns sharing memories.
Talk to other people you'll be celebrating with about how you will do things this time. It is okay to change traditions.
Donate to a charity in the name of your loved one.
Make their favorite food and/or drink.
Sing their favorite holiday song.
In Mexican culture, when we celebrate Día de los Muertos in November, we make an altar to a lost loved one. It may include their photograph, a candle, as well as some of their favorite things. This tradition might sound morbid to some people, but it is something that helps some cope with loss. You don't have to be Mexican, religious, or superstitious to set up an area with some of your loved one's favorite things.
Gather others who knew the person and tell them to bring copies of some of their favorite photos. Make a collage and include some things the person used to say. You can also write some stories about the person. Instead of a collage, you can also make a shadowbox or decorate an object, like a vase or tumbler.
Sometimes we might feel pressured to enjoy the holiday, to "be happy." Give yourself permission to cry if you need to.
Inversely, sometimes we might feel as though we "shouldn't" be enjoying ourselves because our loved one isn't here. Grieving doesn't have to mean feeling sad all the time. Give yourself permission to have moments of joy.
Grief can look so different from person to person. It is okay if yours is not similar to a family member or friend who has suffered the same loss. Allow yourself to feel how you feel, whatever that may be. Take care of yourself, always. <3
Denisse Morales is a licensed psychologist in California. She provides individual therapy services to children, teens, and adults. She loves Star Wars, Dungeons & Dragons, and Supernatural, and is a chapter author for Supernatural Psychology: Roads Less Traveled. Find her stuff at shrinksandgeeks.com and on Twitter @SuperSaiyanDrM
---
This article is not a substitute for medical advice or professional counseling. While we at Take This want to provide you with resources, we do not recommend or endorse any particular site, treatment, therapy, or resource. We provide these links at our sole discretion but have not necessarily vetted or reviewed any particular resource. We assume no liability for the use of the information or resources on these sites and encourage you to use your own best judgment when reviewing these resources.
If you live in the US and you're having suicidal thoughts, reach out to the Suicide & Crisis Lifeline or call/text 988. If you're outside the US, you can find local crisis lines at Suicide.org. If you're even debating whether you should call them, you should call them. The Suicide & Crisis Lifeline handles all psychological crises, not just suicide.